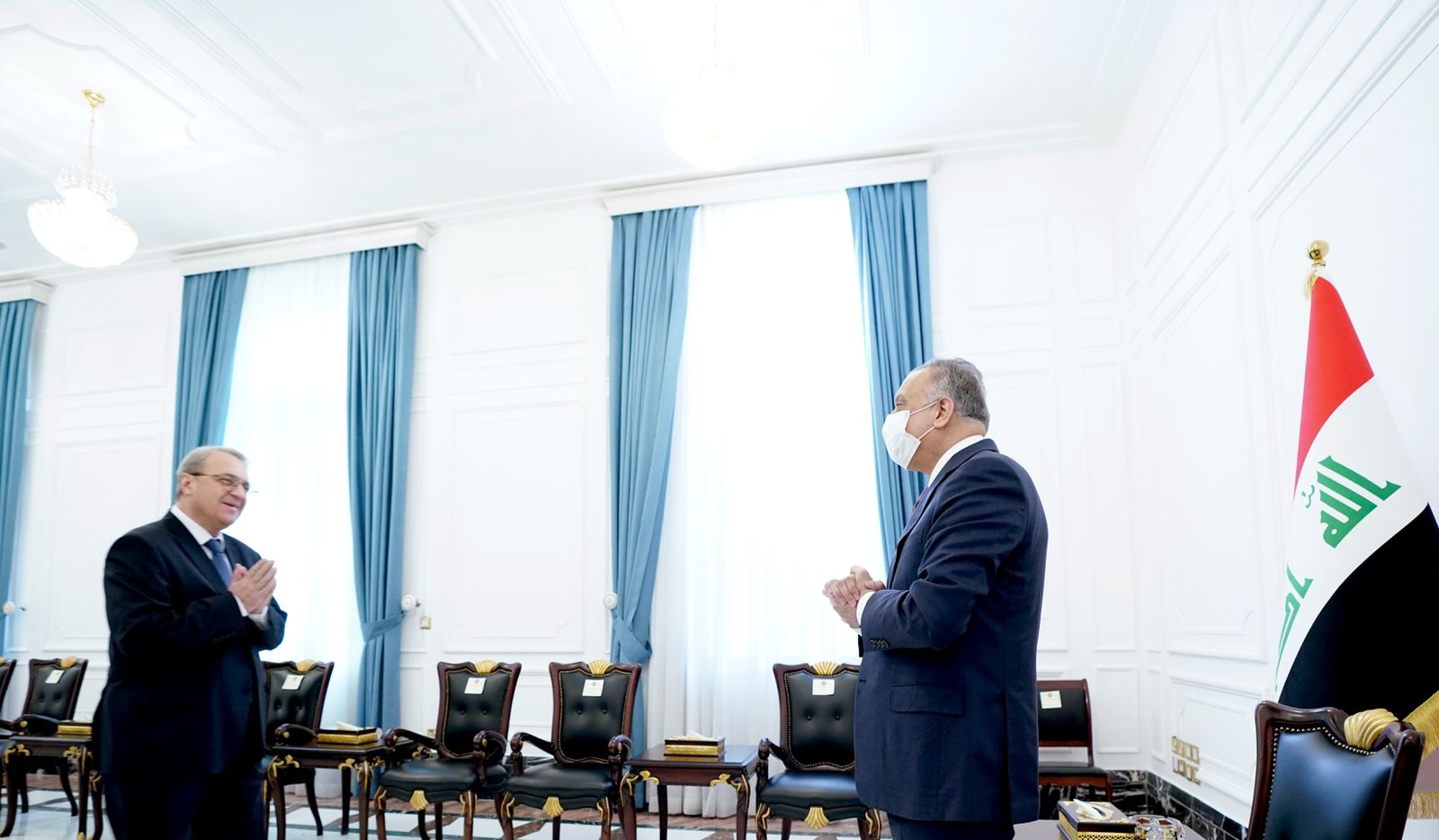 politicsVladimir PutinMikhail BogdanovIraqi-Russian RelationsMustafa Al-Kazemi 2021-11-30 05:36A-AA+
Shafaq News/ On Tuesday, Iraqi Prime Minister Mustafa Al-Kazemi received an invitation from Russian President Vladimir Putin to visit Moscow.
Al-Kazemi's office said in a statement received by Shafaq News Agency, that the latter received in his office today, the Russian President's Special Envoy for the Middle East and African Countries, Undersecretary of the Russian Foreign Ministry, Mikhail Bogdanov, indicating that the meeting witnessed a discussion of the overall Iraqi-Russian relations, and ways to develop them for the benefit of the two countries. The two friends.
The statement indicated that they also discussed the field of bilateral military and security cooperation, and in the field of the war on terrorism and the pursuit of ISIS terrorist remnants. The meeting also discussed the situation in Syria, and the Iraqi role in calming and enhancing stability in the region.
During the meeting, Al-Kazemi stressed the importance of the Russian historical role in the region, and Iraq's aspiration for more cooperation with the Federal Republic of Russia in the political and economic fields, expanding the work of Russian companies in Iraq in all areas of investment, and overcoming obstacles to their participation in strengthening the Iraqi economy.
For his part, Bogdanov renewed the invitation of Russian President Vladimir Putin to the Prime Minister to visit Moscow, and Al-Kazemi expressed his thanks for this invitation, stressing his aspiration to meet it as soon as possible.
https://shafaq.com/ar/%D8%B3%DB%8C%D8%A7%D8%B3%D8%A9/%D8%A8%D9%88%D8%AA%D9%8A%D9%86-%D9%8A%D8%AF%D8%B9%D9%88-%D8%A7%D9%84%D9%83%D8%A7%D8%B8%D9%85%D9%8A-%D9%84%D8%B2%D9%8A%D8%A7%D8%B1%D8%A9-%D9%85%D9%88%D8%B3%D9%83%D9%88