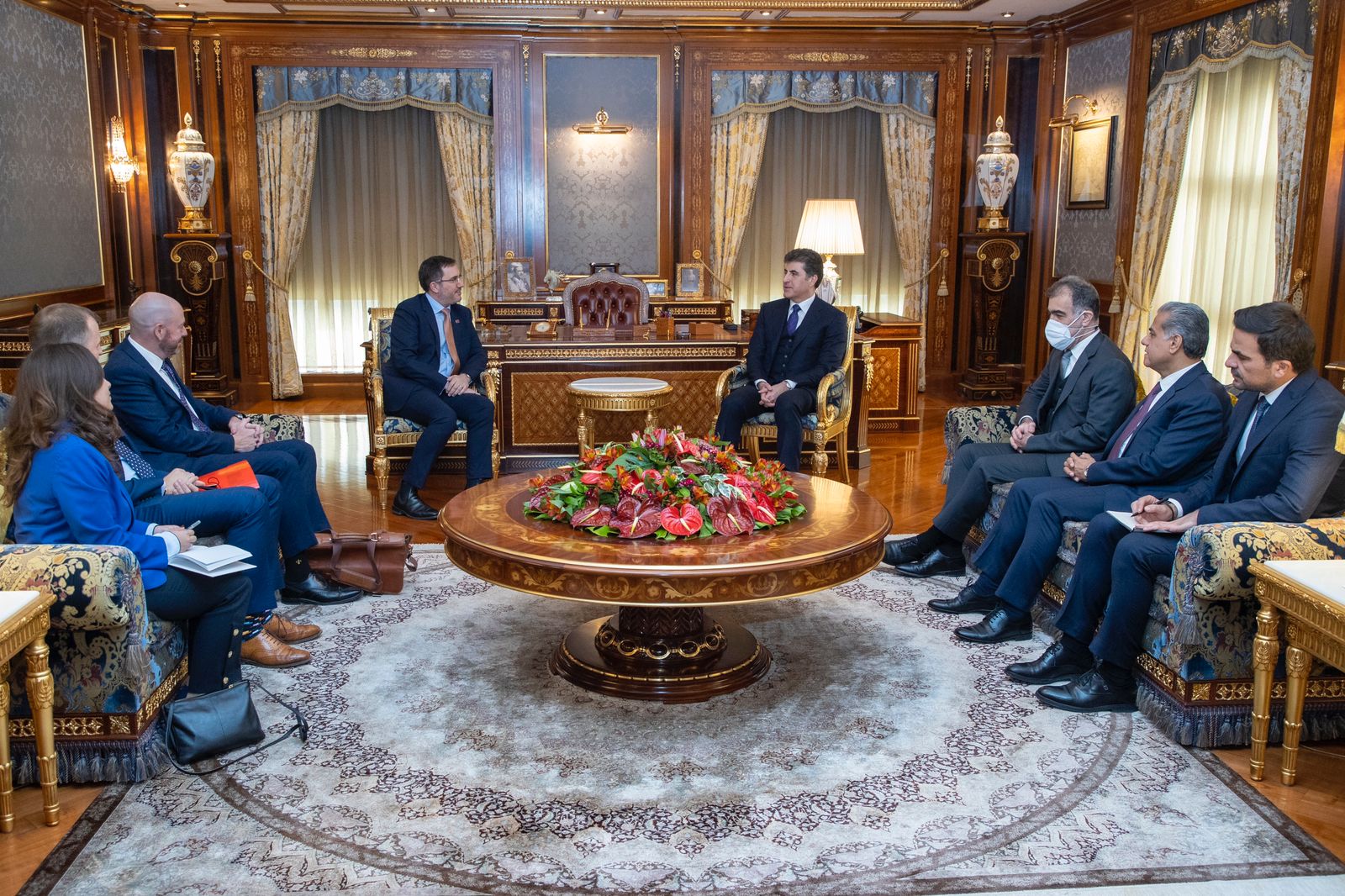 KurdistanbreakingNechirvan BarzaniIraqi elections 2021-11-28 06:57A-AA+
Shafaq News/ The President of Kurdistan Region, Nechirvan Barzani confirmed, on Sunday, that the region will not be part of the problems, but rather will be a partner in the solution, during his comment regarding the differences over the results of the Iraqi parliament elections, which emerged between the Iraqi political parties.
This came during a meeting of the region's president with Mike Bryson Richardson, the British ambassador to Iraq.
A statement by the Region's Presidency Office stated that during the meeting, they discussed strengthening Britain's relations with Iraq and the Kurdistan Region in all fields, the threats of terrorism and confronting ISIS, the importance of consolidating mechanisms of joint cooperation and coordination between the Peshmerga and the Iraqi army, and Erbil-Baghdad relations.
The two sides affirmed the bilateral desire to develop relations and areas of joint cooperation, and agreed on the need for the Iraqi parties to reach an agreement and for the formation of an Iraqi government capable of protecting political stability and meeting the citizens' demands for security, stability, life and better services.
The reform efforts and steps in the Ministry of Peshmerga Affairs and the reorganization of the Peshmerga occupied another axis in the meeting, in which it was emphasized that Britain would continue to follow up and support the process and its success, as well as discussing the situation and developments in the region in general and a group of other issues of common interest, which formed another axis of the meeting.
https://shafaq.com/ar/%D9%83%D9%88%D8%B1%D8%AF%D8%B3%D9%80%D9%80%D8%AA%D8%A7%D9%86%D9%8A%D8%A7%D8%AA/%D8%B1-%D9%8A%D8%B3-%D8%A7%D9%84-%D9%82%D9%84%D9%8A%D9%85-%D9%84%D9%86-%D9%86%D9%83%D9%88%D9%86-%D8%AC%D8%B2-%D8%A7-%D9%85%D9%86-%D8%A7%D9%84%D8%AE%D9%84%D8%A7%D9%81-%D8%A7%D9%84%D8%B3%D9%8A%D8%A7%D8%B3%D9%8A-%D9%81%D9%8A-%D8%A8%D8%BA%D8%AF%D8%A7%D8%AF-%D8%A8%D9%84-%D8%B4%D8%B1%D9%8A%D9%83%D8%A7-%D9%81%D9%8A-%D8%A7%D9%84%D8%AD%D9%84