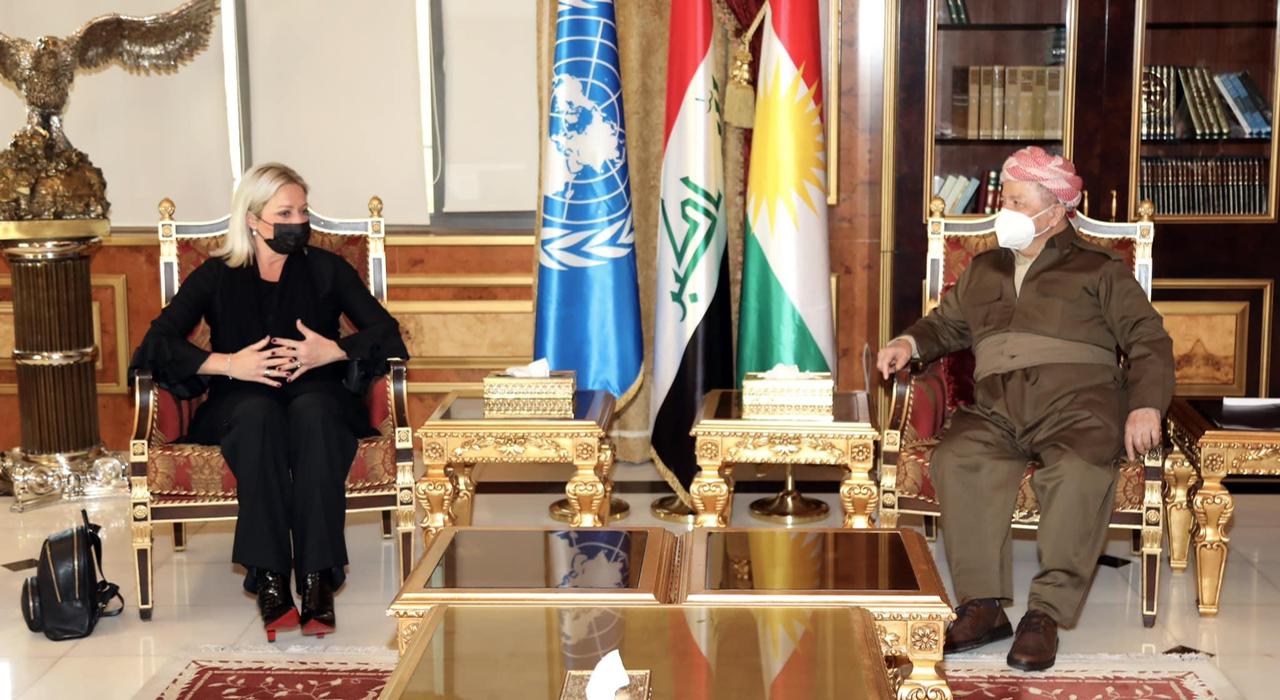 KurdistanMasoud BarzaniJeanine PlasschaertParliament elections 2021-11-27 11:03A-AA+
Shafaq News/ Kurdish leader Masoud Barzani warned on Saturday of the possibility of attempts to tamper with the results of the parliamentary elections that took place last month, considering that such manipulation will cause a new problem and deepen the existing crisis in Iraq.
The warning came from Barzani, who heads the Kurdistan Democratic Party, during his meeting with the UN envoy to Iraq, Jenin Blackshart.
A statement issued by Barzani's headquarters, received by Shafaq News Agency, said that Barzani and Plasschaert discussed the latest political developments in Iraq and the Iraqi Parliament elections that took place last October.
Barzani expressed his thanks for the efforts of the United Nations, the European Union and the international community to support the elections, noting that the elections were successful and that the preliminary results announced by the High Commission reflect the political reality in Iraq and the desire and will of the citizens.
Barzani pointed to the possibility of tampering with the results announced by the Commission, warning against any kind of manipulation that will result in other problems and cause a deepening of the current crisis.
The Kurdistan Democratic Party came in fourth place, winning 33 seats in the elections, behind the Sadrist bloc, the Progress Alliance, and the State of Law coalition.
Since the announcement of the preliminary results last month, Iraq has been experiencing political and security tensions, as a result of the rejection of the results by armed Shiite forces and factions, which they say are "fabricated", and demand that all votes be recounted manually.
Fears prevail in the country that political and security tensions are a prelude to wider violence due to the rejection of the election results by the losers.
https://shafaq.com/ar/%D9%83%D9%88%D8%B1%D8%AF%D8%B3%D9%80%D9%80%D8%AA%D8%A7%D9%86%D9%8A%D8%A7%D8%AA/%D8%A8%D8%A7%D8%B1%D8%B2%D8%A7%D9%86%D9%8A-%D9%8A%D8%AD%D8%B0%D8%B1-%D9%85%D9%86-%D8%A7%D9%84%D8%AA%D9%84%D8%A7%D8%B9%D8%A8-%D8%A8%D9%86%D8%AA%D8%A7-%D8%AC-%D8%A7%D9%84%D8%A7%D9%86%D8%AA%D8%AE%D8%A7%D8%A8%D8%A7%D8%AA-%D8%B3%D9%8A%D8%B9%D9%85-%D9%82-%D8%A7%D9%84-%D8%B2%D9%85%D8%A9-%D8%A7%D9%84%D9%82%D8%A7-%D9%85%D8%A9