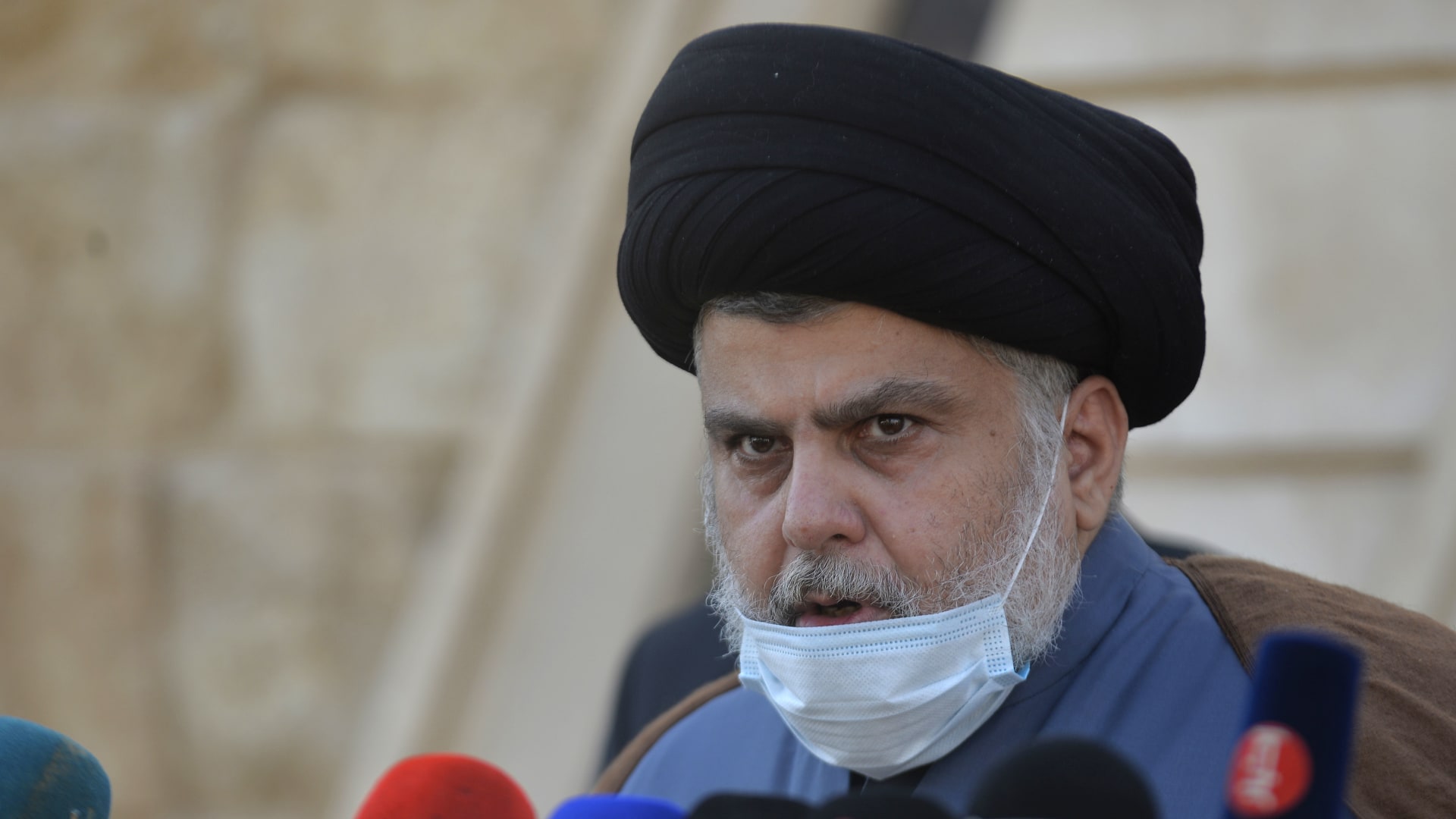 politicsIraqbreakingthe chest 2021-11-18 08:51A-AA+
Shafaq News/ The leader of the Sadrist movement, Muqtada al-Sadr, announced on Thursday a set of conditions for the participation of the losing Shiite political forces in the elections in forming the next Iraqi government, most notably the dissolution of all armed factions.
Al-Sadr said in a press conference held today in Najaf, "My message to the political forces that consider themselves losers in the elections, those elections whose integrity the world has witnessed, should not be your loss to end and ruin the democratic process in Iraq now and in the future."
He addressed those forces, saying: If you participate in the formation of the government, you must hold accountable those afflicted with suspicions of corruption and hand them over to the judiciary to determine the facts.
Al-Sadr stressed the liquidation of the popular crowd from the undisciplined elements and not to involve them in politics, and the severing of all foreign relations with foreign countries in a way that preserves for Iraq its prestige and not to interfere in the affairs of neighboring countries.
He demanded "the dissolution of all armed factions in one go, and handing over their weapons to the crowd under the supervision of the Commander-in-Chief of the Armed Forces."
The leader of the Sadrist movement also pointed out that what is happening in Mosul should be brought to an immediate end.
He continued by saying: We seek to form a national majority government, adding that the people are looking forward to announcing the election results and forming a government quickly.
https://shafaq.com/ar/%D8%B3%DB%8C%D8%A7%D8%B3%D8%A9/%D8%A7%D9%84%D8%B5%D8%AF%D8%B1-%D9%8A%D8%B6%D8%B9-%D8%B4%D8%B1%D9%88%D8%B7%D8%A7-%D9%84%D9%84%D9%82%D9%88%D9%89-%D8%A7%D9%84%D8%B3%D9%8A%D8%A7%D8%B3%D9%8A%D8%A9-%D8%A7%D9%84%D8%AE%D8%A7%D8%B3%D8%B1%D8%A9-%D8%A8%D8%A7%D9%84%D8%A7%D9%86%D8%AA%D8%AE%D8%A7%D8%A8%D8%A7%D8%AA-%D9%81%D9%8A-%D8%AA%D8%B4%D9%83%D9%8A%D9%84-%D8%A7%D9%84%D8%AD%D9%83%D9%88%D9%85%D8%A9-%D8%A7%D9%84%D8%B9%D8%B1%D8%A7%D9%82%D9%8A%D8%A9-%D8%A7%D9%84%D9%85%D9%82%D8%A8%D9%84%D8%A9