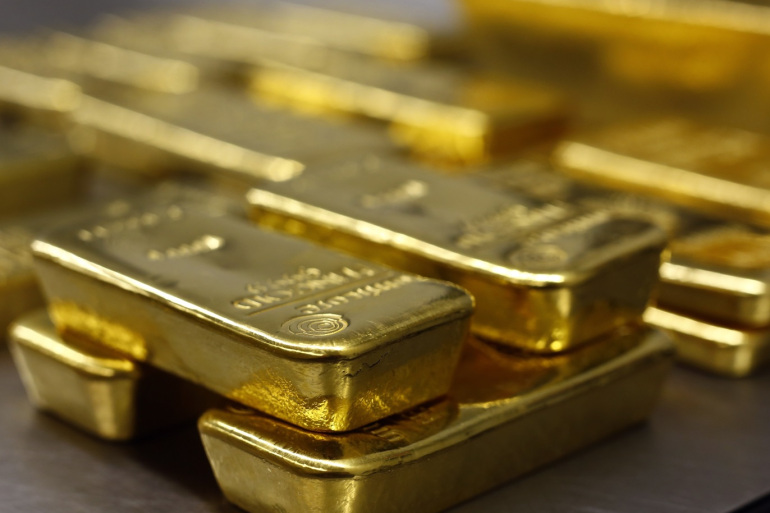 economyIraqArab countriesgold reserve 2021-11-13 01:30A-AA+
Shafaq News/ The World Gold Council announced on Saturday that the possession of the yellow metal in the first five Arab countries, including Iraq, as reserves amounted to more than 1,000 tons for the third quarter of 2021.
The council said in its latest schedule for the month of November 2021, which was seen by Shafak News Agency, that "the gold reserves of Saudi Arabia, Lebanon, Algeria, Libya and Iraq rose to reach 1005.5 tons in the third quarter of this year, compared to the second quarter of it, which amounted to 996.5 tons." .
And he indicated that "Saudi Arabia's possession of gold amounted to 323.1 tons, while Lebanon's possession of gold amounted to 286.8 tons, Algeria 173.6 tons, Libya 116.6 tons, and Iraq's gold reserves amounted to 96.4 tons."
He pointed out that "the reserves of the first five countries in the world were America, Germany, Italy, France and Russia amounted to 18,672 thousand tons, and the United States of America came in the first place with 8133 thousand tons, followed by Germany with 3,259 thousand tons, then Italy came 2451 thousand tons, and France 2436 thousand tons, Russia came fifth with 2,292,000 tons.
It is noteworthy that the World Gold Council, which is headquartered in the United Kingdom, has extensive experience and deep knowledge of the factors that cause market change, and its members consist of the largest and most advanced gold mining companies in the world.
https://shafaq.com/ar/%D8%A7%D9%82%D8%AA%D8%B5%D9%80%D8%A7%D8%AF/%D8%A8%D9%8A%D9%86%D9%87%D8%A7-%D8%A7%D9%84%D8%B9%D8%B1%D8%A7%D9%82-%D8%A7%D8%AD%D8%AA%D9%8A%D8%A7%D8%B7%D9%8A-%D8%A7%D9%84%D8%AF%D9%88%D9%84-%D8%A7%D9%84%D8%B9%D8%B1%D8%A8%D9%8A%D8%A9-%D8%A7%D9%84%D8%AE%D9%85%D8%B3-%D8%A7%D9%84%D8%A7%D9%88%D9%84%D9%89-%D9%85%D9%86-%D8%A7%D9%84%D8%B0%D9%87%D8%A8-%D9%8A%D8%AA%D8%AC%D8%A7%D9%88%D8%B2-1000-%D8%B7%D9%86