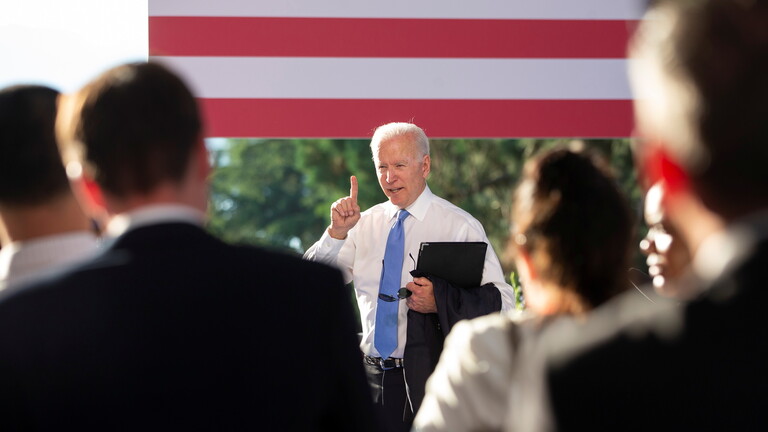 politicsbreakingBidenMustafa Al-Kazemi 2021-11-07 12:18A-AA+
Shafaq News/ On Sunday, US President Joe Biden strongly condemned the targeting of the home of caretaker Prime Minister Mustafa Al-Kazemi.
"I strongly condemn the terrorist attack that targeted the home of Iraqi Prime Minister Al-Kadhimi," Biden said in a statement. "I am relieved that the prime minister was unharmed, and I commend the leadership he has shown in calling for calm, restraint and dialogue to protect state institutions and promote the democracy that Iraqis so richly deserve."
"The perpetrators of this terrorist attack on the Iraqi state must be held accountable. I condemn in the strongest terms those who use violence to undermine the democratic process in Iraq," he added.
"I have instructed my national security team to provide all appropriate assistance to the Iraqi Security Forces as they investigate this attack and identify those responsible. The United States stands firmly with the government and people of Iraq as they strive to uphold the sovereignty and independence of Iraq," Biden said.
On Sunday, a source close to Prime Minister Mustafa Al-Kazemi revealed that the latter had sent messages to the armed factions informing them of the government's impatience.
The source told Shafak News Agency; "Prime Minister Mustafa Al-Kazemi sent messages to the armed factions and the coordinating framework forces through Hadi Al-Amiri and former Prime Minister Haider Al-Abadi, that patience has limits and it is not possible to be more silent about the recent security breaches that occurred at the gates of the Green Zone and the targeting of his house."
The source added; Al-Kazemi confirmed that he possessed information about the parties involved in creating the security chaos that occurred recently in the Iraqi capital, Baghdad.
And he continued, "Al-Kazemi stressed, with his message through Al-Abadi, which he will deliver to the leader of the Al-Fateh Alliance, Hadi Al-Amiri; that the security forces are able to arrest all those involved in the recent events, but he (Al-Kazemi) does not want internal fighting, but for patience and endurance there are limits, after which there will be severe security measures and decisions against parties and prominent and influential figures on the Iraqi arena.
And the Prime Minister, Mustafa Al-Kazemi, received earlier today, Sunday, the head of the Al-Nasr coalition, Haider Al-Abadi, while the latter met this afternoon with the leader of the Al-Fateh Alliance Hadi Al-Amiri, according to a statement issued by Al-Abadi's office.
And the Iraqi Prime Minister, Mustafa Al-Kazemi, announced, at dawn on Sunday, that he had been subjected to a failed assassination attempt, while the security authorities indicated that the attempt was carried out through three drones, two of which were shot down.
https://shafaq.com/ar/%D8%B3%DB%8C%D8%A7%D8%B3%D8%A9/%D8%A8%D8%A7%D9%8A%D8%AF%D9%86-%D9%8A%D8%B9%D9%84%D9%86-%D8%A7%D8%B5%D8%AF%D8%A7%D8%B1-%D8%AA%D8%B9%D9%84%D9%8A%D9%85%D8%A7%D8%AA-%D8%AE%D8%A7%D8%B5%D8%A9-%D8%AB%D8%B1-%D8%A7%D9%84%D9%87%D8%AC%D9%88%D9%85-%D8%B9%D9%84%D9%89-%D9%85%D9%86%D8%B2%D9%84-%D8%A7%D9%84%D9%83%D8%A7%D8%B8%D9%85%D9%8A