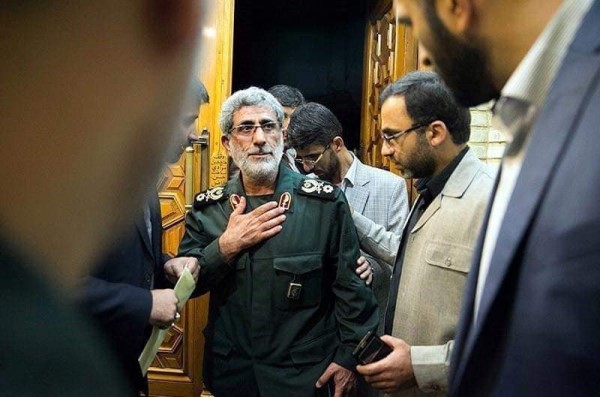 politicsBaghdadbreakingIsmael QaaniShiite faction leaders 2021-11-07 16:48A-AA+
Shafaq News/ The commander of the Quds Force in the Iranian Revolutionary Guards, Ismail Qaani, arrived on Monday in the Iraqi capital, Baghdad, on an unannounced visit.
A government source told Shafaq News Agency that, upon his arrival – after midnight – Qaani held a meeting with the leaders of the Shiite factions, without giving further details.
The visit comes a day after Prime Minister Mustafa Al-Kazemi announced that he survived an assassination attempt after his house was bombed by drones, while the security authorities explained that they were able to shoot down two of three drones that targeted the Prime Minister's home in the fortified Green Zone in the center of the capital, Baghdad.
Many countries and international bodies condemned this attempt.
And the Iraqi security and military forces entered a state of high alert after the assassination attempt was announced, and more special forces were deployed in the vicinity of the Green Zone and the surrounding neighborhoods.
No armed faction claimed responsibility for the attack, but it came a few hours after Asa'ib Ahl al-Haq pledged to "punish" Al-Kazemi in response to the killing of one of its leaders during a confrontation between security forces and supporters of forces that lost in the elections that organized a protest near the Green Zone.
https://shafaq.com/ar/%D8%B3%DB%8C%D8%A7%D8%B3%D8%A9/%D8%A8%D8%B9%D8%AF-%D9%8A%D9%88%D9%85-%D9%85%D9%86-%D9%85%D8%AD%D8%A7%D9%88%D9%84%D8%A9-%D8%A7%D8%BA%D8%AA%D9%8A%D8%A7%D9%84-%D8%A7%D9%84%D9%83%D8%A7%D8%B8%D9%85%D9%8A-%D9%82%D8%A7-%D9%86%D9%8A-%D9%8A%D8%B5%D9%84-%D8%A8%D8%BA%D8%AF%D8%A7%D8%AF-%D9%88%D9%8A%D8%AC%D8%AA%D9%85%D8%B9-%D8%B9%D9%84%D9%89-%D8%A7%D9%84%D9%81%D9%88%D8%B1-%D8%A8%D9%82%D8%A7%D8%AF%D8%A9-%D8%A7%D9%84%D9%81%D8%B5%D8%A7-%D9%84