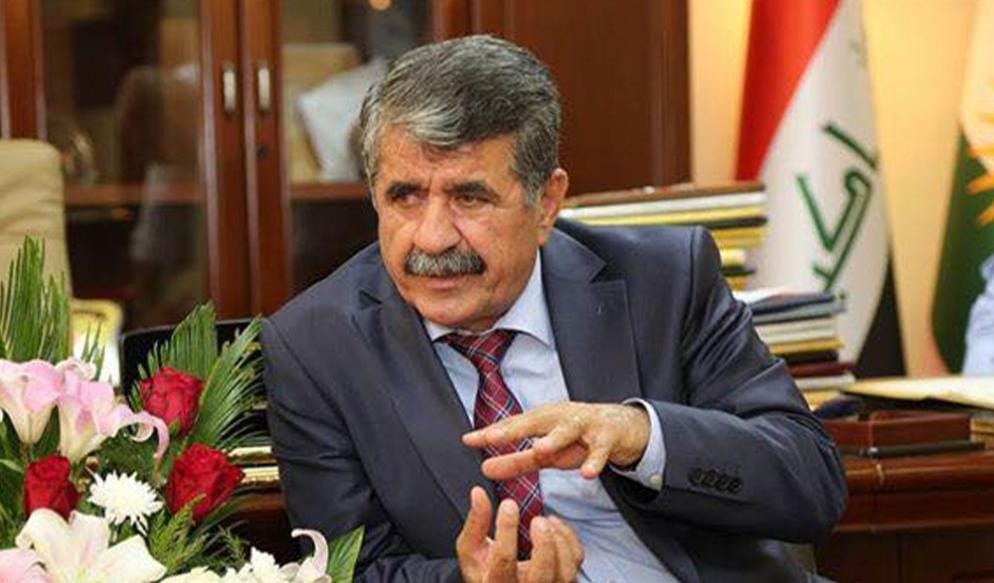 Kurdistan womenKurdistan Patriotic UnionbreakingHassan Nouri 2021-10-28 14:20A-AA+
Shafaq News/ A special source revealed, on Thursday, that Major General Hassan Nuri, a leader in the Patriotic Union of Kurdistan, was "poisoned."
The source told Shafaq News Agency, on condition of anonymity, that "the medical examinations revealed the presence of many symptoms of poisoning by the leader, Hassan Nuri, during his treatment in Germany."
Nuri had gone to Germany to receive treatment due to a health problem at the beginning of this month, and then later returned to the region to complete his treatment.
The source added that "Nuri is now completing his treatment in the Kurdistan Region," noting that "his case of poisoning is somewhat stable."
The source was not able to ascertain whether Nuri was poisoned as a result of a natural condition or an attempt to assassinate him with poison.
Major General Hassan Nouri is a member of the leadership council of the Patriotic Union of Kurdistan, and he previously held the position of General Director of the Sulaymaniyah Asayish.
The disclosure of Nuri's "poisoning" comes one day after it was announced that a prominent leader in the Patriotic Union of Kurdistan, Mullah Bakhtiar, had been subjected to an attempted murder by poisoning.
An official in the Federation told Shafaq News Agency, on Wednesday, that "Mala Bakhtiar's health condition suddenly deteriorated, and he was immediately transferred to a German hospital in Berlin to examine his condition, as reports and a medical examination showed that Mullah Bakhtiar had taken a lethal toxic substance."
He added that the medical staff supervising Mullah Bakhtiar confirmed that he controls the health status of the Kurdish leader, and that he is stabilizing.
Since July 2021, the struggle of the wings within the Patriotic Union of Kurdistan emerged with Bafel Talabani overthrowing his partner in the party leadership, Lahore Sheikh Janki Talabani, and declaring himself the party's leader.
Tensions escalated after the leadership of the Union accused Lahore Talabani of planting a spy in Pavel's house, and an attempt to kill the latter with poison took place after that.
https://shafaq.com/ar/%D9%83%D9%88%D8%B1%D8%AF%D8%B3%D9%80%D9%80%D8%AA%D8%A7%D9%86%D9%8A%D8%A7%D8%AA/%D8%AA%D8%B9%D8%B1%D8%B6-%D9%82%D9%8A%D8%A7%D8%AF%D9%8A-%D8%AE%D8%B1-%D9%81%D9%8A-%D8%A7%D9%84%D8%A7%D8%AA%D8%AD%D8%A7%D8%AF-%D8%A7%D9%84%D9%88%D8%B7%D9%86%D9%8A-%D8%A7%D9%84%D9%83%D9%88%D8%B1%D8%AF%D8%B3%D8%AA%D8%A7%D9%86%D9%8A-%D9%84%D9%89-%D8%A7%D9%84%D8%AA%D8%B3%D9%85%D9%85