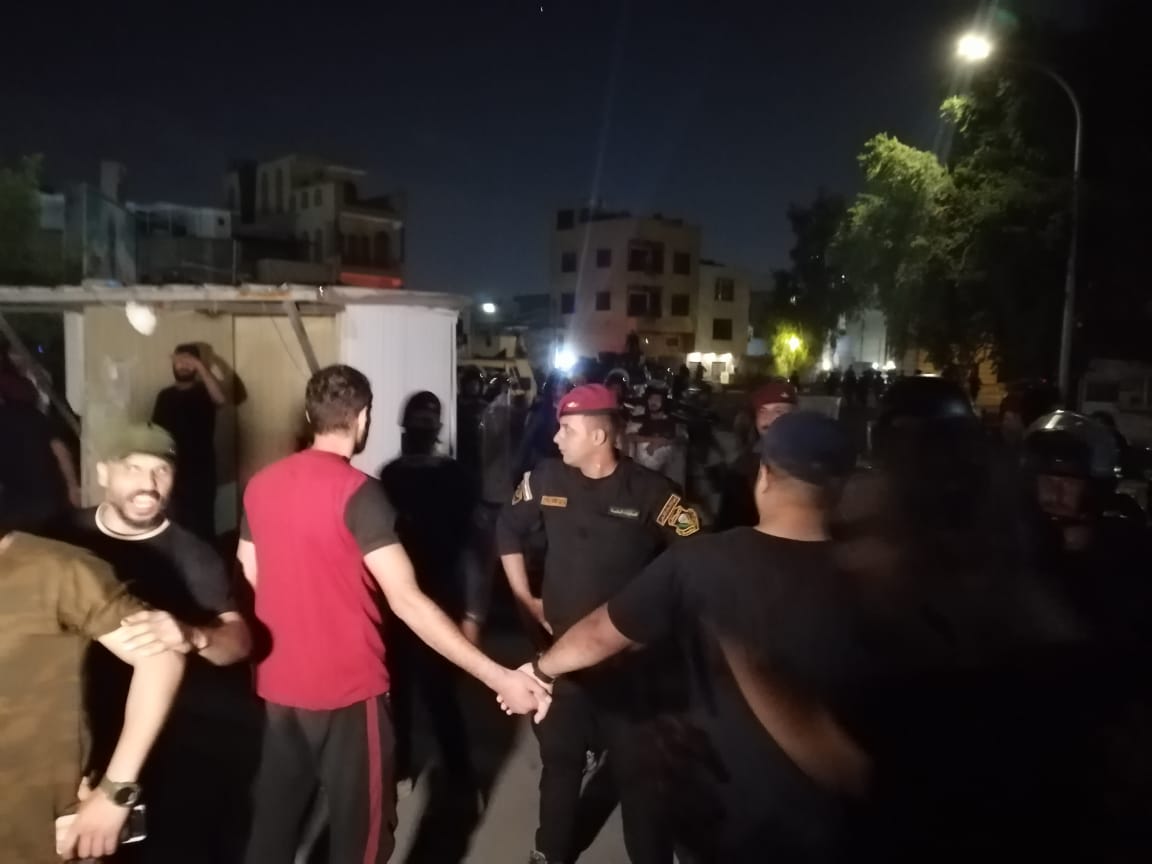 securitythe green Zonebreakingdemonstrations 2021-10-23 16:32A-AA+
Shafaq News/ On Saturday, a security source said that the US embassy in Baghdad is following up on the latest developments after the demonstrators protesting the election results advanced towards the Green Zone.
The source told Shafaq News Agency, "The US embassy is following up on the escalation that took place within the green approach and is preparing in anticipation of any emergency."
He added, "There is no friction, and the security situation is good when approaching Al-Khadra."
The source confirmed that "the situation is now good," noting that "the protesters were stationed near the first line of the security forces within the Falaqa, the entrance to Al-Khadra (suspension bridge), and that there were no casualties on both sides."
He continued, "With this, the place of the sit-in will be moved from the entrance to the Martyrs Foundation towards the Al-Mu'allaq Falak."
And a security source said earlier today, Saturday, that the protesters against the election results, who are camping in central Baghdad, advanced towards the heavily fortified Green Zone.
The source told Shafaq News Agency, that the protesters advanced towards the suspension bridge, which is one of the entrances to the Green Zone in central Baghdad, which includes the headquarters of the government, parliament and foreign missions. He added that they reached the first wall of the suspension bridge closed with concrete blocks.
The source pointed out that "according to sources from inside the sit-in, there is no intention to storm the Green Zone, and what happened is only progress."
The source added that the special squad began to move inside the Green Zone as a precautionary security measure in anticipation of any emergency.
On Tuesday, hundreds of supporters of Shiite political factions and forces began a sit-in in central Baghdad near one of the gates of the Green Zone, expressing their rejection of the election results and demanding a manual recount of votes.
Shiite forces, including influential factions, had previously warned that proceeding with these results "threatens civil peace in the country." Which raised fears of the possibility of an outbreak of internal fighting in the country.
Preliminary results showed that the "Sadr bloc" swept the rest of the Shiite forces, winning 73 seats.
https://shafaq.com/ar/%D8%A3%D9%85%D9%80%D9%86/%D8%A7%D9%84%D8%B3%D9%81%D8%A7%D8%B1%D8%A9-%D8%A7%D9%84%D8%A7%D9%85%D8%B1%D9%8A%D9%83%D9%8A%D8%A9-%D8%AA%D8%AA%D8%A7%D8%A8%D8%B9-%D8%AA%D9%82%D8%AF%D9%85-%D8%A7%D9%84%D9%85%D8%AA%D8%B8%D8%A7%D9%87%D8%B1%D9%8A%D9%86-%D9%86%D8%AD%D9%88-%D8%A7%D9%84%D8%AE%D8%B6%D8%B1%D8%A7-%D9%88%D8%AA%D8%AA%D8%AC%D9%87%D8%B2-%D8%AA%D8%AD%D8%B3%D8%A8%D8%A7-%D9%84-%D9%8A-%D8%B7%D8%A7%D8%B1