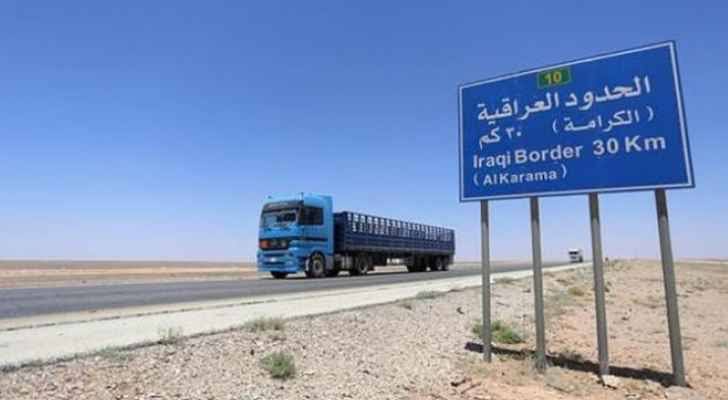 communityIraqJordanIraqi border 2021-09-30 15:43A-AA+
Shafaq News/ The governments of Iraq and Jordan agreed to travel by land to and from the two countries, and to allow salon wheels to transport passengers as well, starting tomorrow, after years of closing it.
On Thursday, the mayor of Al-Rutba district, far west of Anbar Governorate, Imad Al-Dulaimi confirmed the approval of the governments of Iraq and Jordan, allowing "saloon wheels to transport passengers to and from Iraqi and Jordanian lands via the land route linking the two countries, after that was prevented for many years." .
Al-Dulaimi pointed out, during his speech to Shafaq News Agency, that "allowing travelers to move between the two countries comes after confirming the international traveler's card for anti-Coronavirus vaccination."
He added that "the approval to move between the two countries included crude oil tankers, without going through the commercial exchange yard at the Trebil border port."
Al-Dulaimi explained, "The port's imports are subject to the federal budget law, which provides for the addition of 50% of it to the budget of the governorate in which the port is located."
In the context, a document seen by Shafak News showed that the Jordanian Minister of Interior, Mazen Abdullah Al-Faraya, allowed "foreign travel cars operating on the (Amman – Baghdad) line, whether Jordanian or Iraqi, to work through the Karama Borders Center, and within the approved health conditions. ".
https://shafaq.com/ar/%D9%85%D8%AC%D8%AA%D9%80%D9%85%D8%B9/%D8%A8%D8%B9%D8%AF-%D8%B3%D9%86%D9%88%D8%A7%D8%AA-%D9%85%D9%86-%D8%BA%D9%84%D8%A7%D9%82%D9%87-%D8%A7%D9%84%D8%B9%D8%B1%D8%A7%D9%82-%D9%88%D8%A7%D9%84-%D8%B1%D8%AF%D9%86-%D9%8A%D9%88%D8%A7%D9%81%D9%82%D8%A7%D9%86-%D8%B9%D9%84%D9%89-%D8%A7%D9%84%D8%B3%D9%81%D8%B1-%D8%A8%D8%B1%D8%A7-%D9%85%D9%86-%D9%88-%D9%84%D9%89-%D8%A7%D9%84%D8%A8%D9%84%D8%AF%D9%8A%D9%86-%D9%88%D8%AB%D9%8A%D9%82%D8%A9