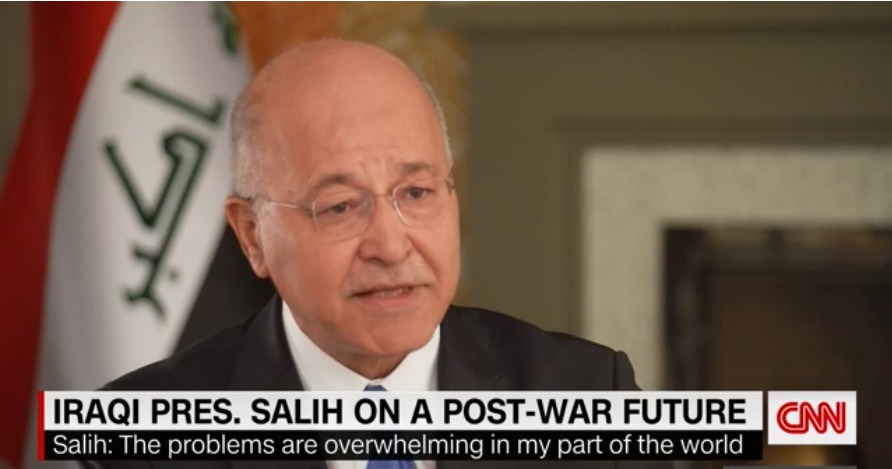 politicsThe conflict in IraqIraqi President Barham SalihCNNregional conflicts 2021-09-26 13:16A-AA+
Shafaq News / The Iraqi President, Barham Salih, considered, on Sunday, that Iraq was an arena for regional and international conflict with the money and lives of Iraqis, and this situation must be ended, while referring to the region's need for a neighborly dialogue instead of a rupture.
Saleh said, in an interview with the American "CNN" channel, that "a secure and stable Iraq with full sovereignty can be an arena for the convergence of economic interests, infrastructure, railways, and gas and oil pipelines, between the actors in the region from Iran, Turkey and the Arabs."
He explained that "the population of Iraq is now 40 million, and in 2050 it will be about 80 million, and the same is true with all countries in the region that are witnessing an increase in population, and these countries may not be able to find jobs for future generations if the current dynamic of conflicts in the region continues." This also applies to Iran, Jordan and Egypt.
He noted that "the region is in dire need of cooperation and work on plans to build infrastructure, expand and integrate the economies of countries, combat climate change, and work to meet the population's requirements for jobs, quality education and better health care," adding, "We cannot wait until others solve this for us." We have to work on it ourselves."
Saleh added, "Our region needs dialogue, we are neighbors and we must engage in dialogue despite differences instead of a state of estrangement, and we are more optimistic than ever about turning the page on crises and disputes in the region."
"The region is facing major problems, and while we focus on terrorism and extremism, we must realize the upcoming challenges related to the economic situation," he added.
Regarding the situation in Afghanistan, the Iraqi president pointed out that "the lesson that took place after the events of Afghanistan and 20 years of American presence, gives the impression that no matter how much international support is, without the support of good governance, success and salvation cannot be achieved."
However, "corruption is also an obstacle to good governance, security and stability, and that good governance must be at the heart of any international support in any region of the world."
https://shafaq.com/ar/%D8%B3%DB%8C%D8%A7%D8%B3%D8%A9/%D8%A7%D9%84%D8%B1-%D9%8A%D8%B3-%D8%A7%D9%84%D8%B9%D8%B1%D8%A7%D9%82%D9%8A-%D9%83%D9%86-%D8%A7-%D8%B3%D8%A7%D8%AD%D8%A9-%D8%B5%D8%B1%D8%A7%D8%B9-%D9%82%D9%84%D9%8A%D9%85%D9%8A-%D9%88%D8%AF%D9%88%D9%84%D9%8A-%D8%A8-%D9%85%D9%88%D8%A7%D9%84%D9%86%D8%A7-%D9%88-%D8%B1%D9%88%D8%A7%D8%AD%D9%86%D8%A7