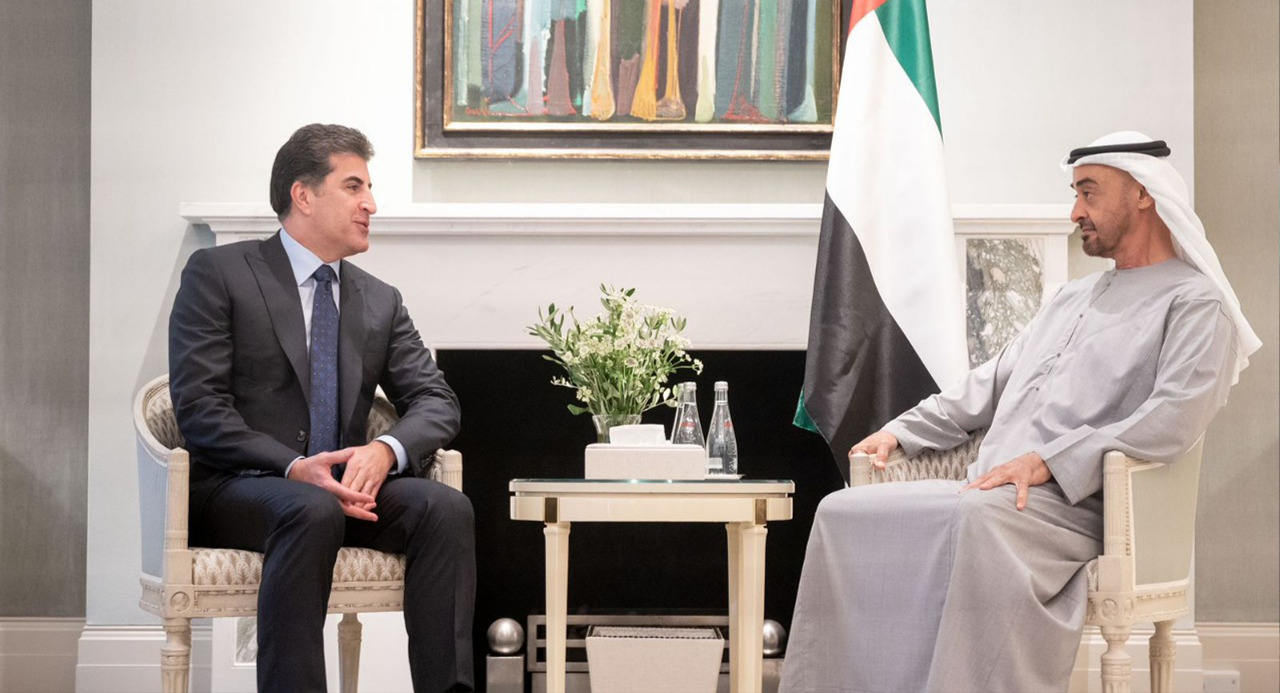 KurdistanNechirvan BarzaniLondonVisitMohammed bin Zayed 2021-09-18 05:15A-AA+
Shafaq News/ On the last day of his visit to Britain, the President of Kurdistan Region, Nechirvan Barzani was received by Mohammed bin Zayed Al Nahyan, Crown Prince of Abu Dhabi and Deputy Supreme Commander of the UAE Armed Forces and Chairman of the Executive Council of the Emirate of Abu Dhabi, in the latter's place of residence.
The Presidency of the Region stated in a statement today, Saturday, that during the meeting, they discussed the relations of the Kurdistan Region and Iraq with the UAE, the political situation and elections, predictions about the future of Iraq, the two sides' visit to London, their meeting and dialogue with British Prime Minister Boris Johnson, and the latest developments in the region in general. and a number of issues of common interest.
The statement added that the two sides affirmed and agreed to strengthen friendship and relations in all fields, and the importance of exerting efforts and joint work in the framework of maintaining stability and addressing conflicts and tensions in the region, and exchanged views on these issues.
On Wednesday, President Barzani arrived in London, the capital of the United Kingdom, on an official visit, during which he met the British Prime Minister, the Ministers of Foreign Affairs and Defense, and other British officials.
https://shafaq.com/ar/%D9%83%D9%88%D8%B1%D8%AF%D8%B3%D9%80%D9%80%D8%AA%D8%A7%D9%86%D9%8A%D8%A7%D8%AA/%D9%81%D9%8A-%D8%A7%D9%84%D9%8A%D9%88%D9%85-%D8%A7%D9%84-%D8%AE%D9%8A%D8%B1-%D9%85%D9%86-%D8%B2%D9%8A%D8%A7%D8%B1%D8%AA%D9%87-%D9%86%D9%8A%D8%AC%D9%8A%D8%B1%D9%81%D8%A7%D9%86-%D8%A8%D8%A7%D8%B1%D8%B2%D8%A7%D9%86%D9%8A-%D9%8A%D9%84%D8%AA%D9%82%D9%8A-%D8%A8%D9%86-%D8%B2%D8%A7%D9%8A%D8%AF-%D9%81%D9%8A-%D9%84%D9%86%D8%AF%D9%86