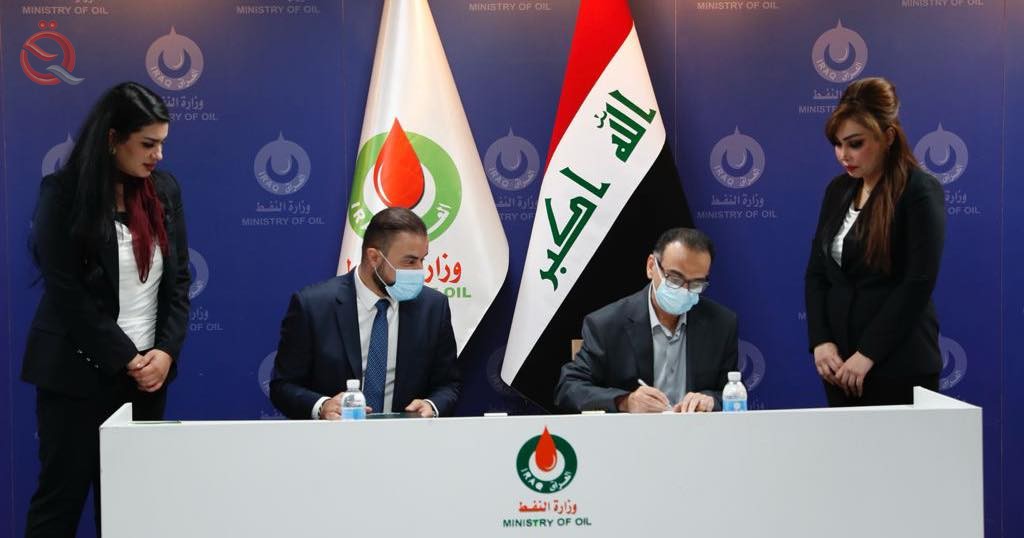 Side of the memorandum signature
energy
Economy News – Baghdad
On Thursday, the North Refineries Company of the Ministry of Oil signed a memorandum of agreement of principles for the implementation of the Qayyarah investment project, with a capacity of 70,000 barrels per day, with the Swedish Seib companies and the Turkish Limak company .
The Undersecretary for Liquidation Affairs, Hamed Younis, said, during the signing ceremony, in a statement seen by "Economy News", that "the ministry is keen to advance the liquidation sector through an axis related to plans to develop government refineries by adding advanced units to increase production and improve products, and another axis related to the establishment of refineries." Sophisticated investment distributed throughout Iraq, according to the need and population density, and aims to cover and meet the local need.
Younis added that "the memorandum of agreement of principles for the implementation of the Qayyarah investment project comes within this framework, and represents an important addition to the liquidation sector, especially for Nineveh Governorate."
For his part, General Manager of the North Refineries Company, Qassem Abdel Rahman, said that "the memorandum of principles with the companies (Seeb) and (Limac) outlines a roadmap for an investment contract for the Qayyarah refinery with a capacity of (70) thousand barrels per day using complex and advanced technologies to treat heavy oil and turn it into products. White with European specifications (Euro 5)".
For his part, Director General of the Studies, Planning and Follow-up Department, Nasir Aziz, said that "this project is in line with the Investment Law for the Refining of Crude Oil No. 64 of 2007, and is included in the ministry's investment plan to develop the refining sector using modern technologies to treat heavy oil in Qayyarah, Nineveh Governorate, and that The project represents a qualitative leap and an important addition to the refinery sector, and adopts clean, sustainable and environmentally friendly energy standards."
While the representative of the Seib Company , Taher Ablahad Qariou, expressed his "happiness that his company joined the implementation of a large and important project that falls within the strategy of the Ministry of Oil and its plans to develop the refinery sector," stressing that "negotiations with the concerned authorities in the ministry took more than a year to reach the formula of the principles agreement, This will be followed by signing the contract after three months, during which the contracting companies submit their financial and technical obligations and documents related to the project.
Meanwhile, the representative of Limak Company , Abdul Hakim Madhi, confirmed his company's readiness to implement the project, which is one of the important projects in the refining sector, using the latest equipment and technologies to process heavy oil.