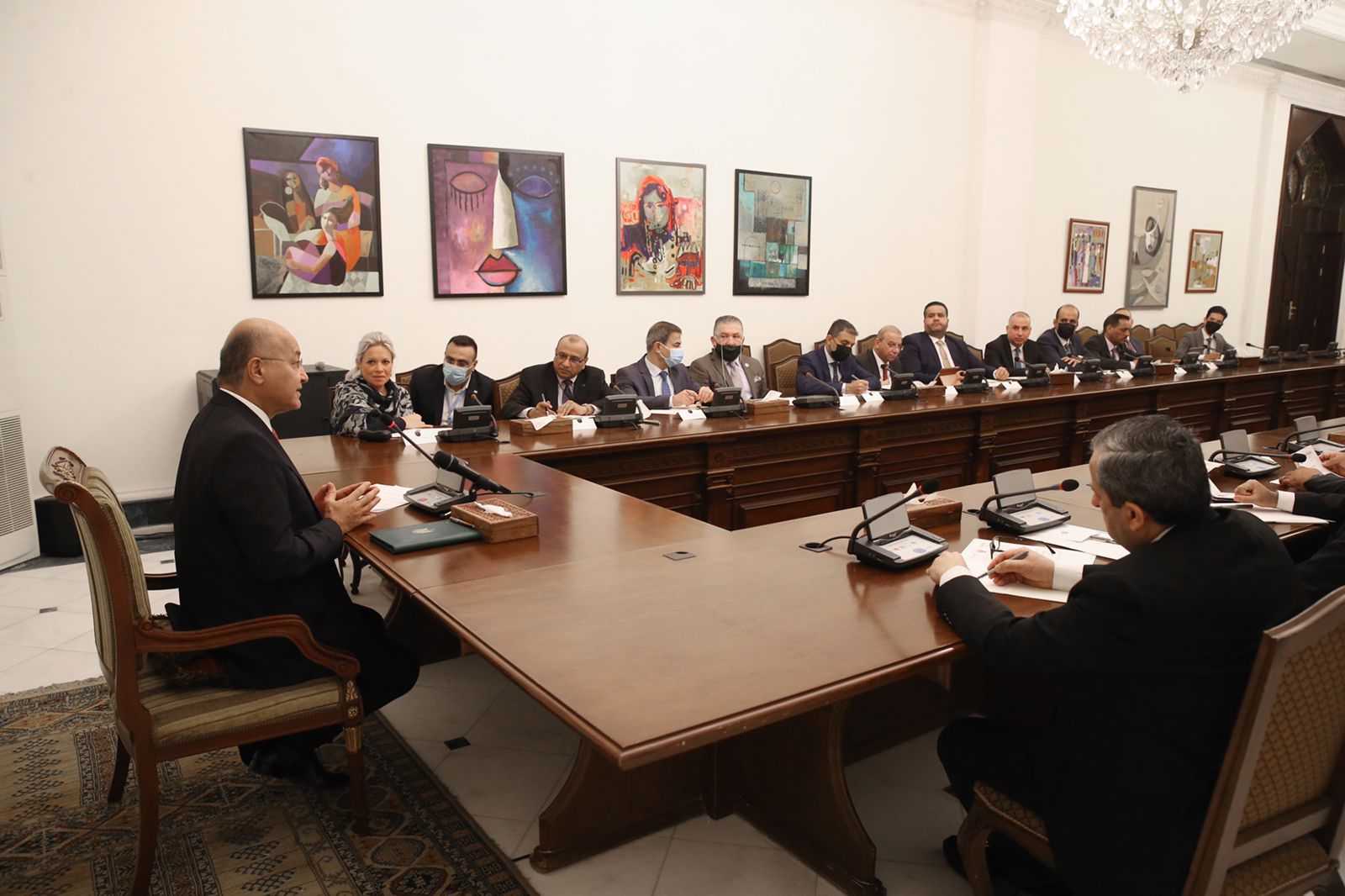 politicsBarham SalehElectoral CommissionIraqi electionsJeanine Hennis-Plasschaert 2021-09-08 08:12A-AA+
Shafaq News/ The Iraqi President, Barham Salih, described, on Wednesday, the general elections scheduled for next October as "a pivotal one", noting that its repercussions and effects will be on the whole region.
The Presidency of the Republic said in a statement received by Shafak News Agency, that President Barham Salih held a meeting today with the head and members of the Independent High Electoral Commission and the UN envoy, Jenin Plasschaert, which dealt with the latest developments in the election file.
The statement quoted Saleh as saying that the upcoming elections are pivotal, as they come after a popular movement and a broad national consensus to correct the tracks and achieve radical reforms, noting that the upcoming elections are a great Iraqi entitlement, and will have repercussions and effects on the whole region.
Saleh stressed that a code of conduct for the political forces will soon be presented to be a comprehensive framework for electoral behavior, based on respect for the constitution and legal regulations and the recognition that elections are the decisive factor, stressing the need to restore Iraqis' confidence in the electoral process after the political and electoral process was questioned because of the violations that accompanied the electoral experiences. previous.
The Iraqi president pointed out the importance of ensuring broad participation to be a top priority, and the elections to be the true peaceful path to change and reform the situation, praising at the same time the efforts of the Electoral Commission to organize the elections, and the efforts of the international team and its cooperation with the Commission.
Saleh pointed out that the previous electoral experiences and the skepticism surrounding them increase the importance of the upcoming elections and the need to ensure their integrity and fairness and to guarantee the free will of Iraqis away from fraud and manipulation, stressing that political forces and social activities have a responsibility to encourage citizens to participate widely, and to ensure that these elections are different. The time for the voter to feel that his voice is preserved.
On the tenth of next October, Iraq is scheduled to witness general parliamentary elections that will lead to a new parliament and a new government, after massive protests swept most of the country's cities in October 2019.
https://shafaq.com/ar/%D8%B3%DB%8C%D8%A7%D8%B3%D8%A9/%D8%A7%D9%84%D8%B1-%D9%8A%D8%B3-%D8%A7%D9%84%D8%B9%D8%B1%D8%A7%D9%82%D9%8A-%D9%81%D9%8A-%D8%A7%D8%AC%D8%AA%D9%85%D8%A7%D8%B9-%D8%B6%D9%85-%D8%A8%D9%84%D8%A7%D8%B3%D8%AE%D8%A7%D8%B1%D8%AA-%D9%84%D9%84%D8%A7%D9%86%D8%AA%D8%AE%D8%A7%D8%A8%D8%A7%D8%AA-%D8%A7%D9%84%D9%85%D9%82%D8%A8%D9%84%D8%A9-%D8%AA%D8%A8%D8%B9%D8%A7%D8%AA-%D8%B9%D9%84%D9%89-%D9%83%D9%84-%D8%A7%D9%84%D9%85%D9%86%D8%B7%D9%82%D8%A9