Policy 2021-09-05 | 08:16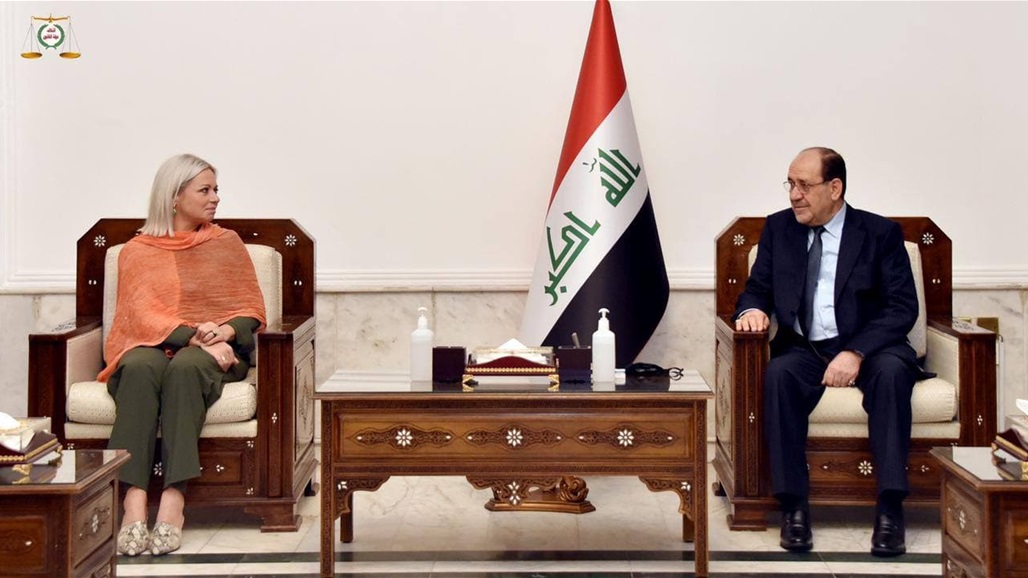 102 views
Today, Sunday, the leader of the State of Law coalition, Nuri al-Maliki, discussed with the representative of the Secretary-General of the United Nations in Iraq, Jeanine Plasschaert, the various political and security developments taking place in Iraq and the region, as well as the ongoing preparations for the upcoming elections.
Al-Maliki's office said in a statement, received by Alsumaria News, that the latter "heard a detailed explanation by Plasschaert about its position and that of the United Nations Mission in Iraq (UNAMI) regarding what was reported that the mission exerted pressure to postpone the elections, stressing its keenness to respect Iraq's sovereignty and the independence of its national decision. ".
Al-Maliki stressed, "The inevitability and importance of the elections and the need for them to enjoy the necessary environment for holding the upcoming elections in a manner that guarantees their integrity and fairness in order to give their results credibility and confidence among Iraqis, and in a manner that consolidates their free will to elect their representatives away from pressure, fraud and manipulation, stressing the importance of the role of the UN and its efforts in supporting the process." democracy and its maintenance.
He pointed out that "the last stage, during which Iraq witnessed polling operations, was not marred by manipulation or fraud, except for what happened in 2018, renewing the call for the government to provide electoral security and protect polling stations from fraudsters and fraudsters."
In turn, Plasschaert renewed "the support of the International Organization for Iraq and the strengthening of the work of its institutions, and its continuation of providing advice and assistance to achieve for the Iraqis their aspirations and hopes in various fields."
https://www.alsumaria.tv/news/%D8%B3%D9%8A%D8%A7%D8%B3%D8%A9/395702/%D8%A7%D9%84%D9%85%D8%A7%D9%84%D9%83%D9%8A-%D9%88%D8%A8%D9%84%D8%A7%D8%B3%D8%AE%D8%A7%D8%B1%D8%AA-%D9%8A%D8%A8%D8%AD%D8%AB%D8%A7%D9%86-%D9%85%D9%84%D9%81-%D8%A7%D9%84%D8%A7%D9%86%D8%AA%D8%AE%D8%A7%D8%A8%D8%A7%D8%AA