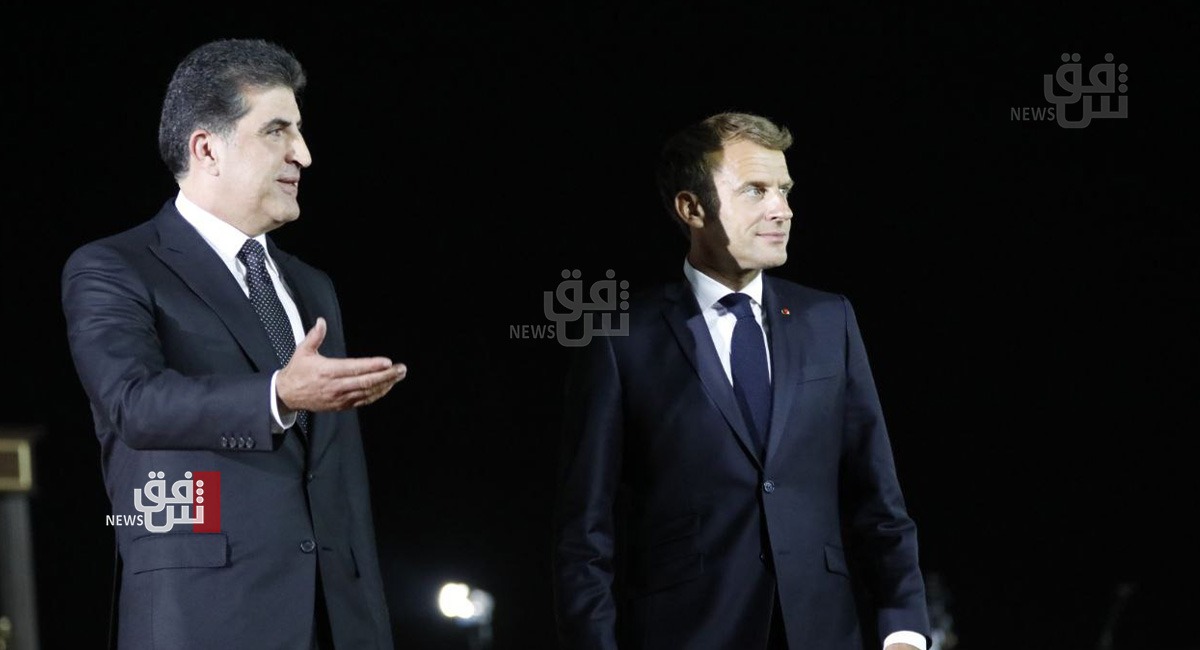 KurdistanErbilbreakingNechirvan BarzaniEmmanuel Macron 2021-08-28 19:32A-AA+
Shafaq News/ French President Emmanuel Macron arrived in Erbil, the capital of Kurdistan Region, from the Iraqi capital, Baghdad, after his participation in the Baghdad Conference for Cooperation and Partnership.
Macron was received by the President of the Kurdistan Region, Nechirvan Barzani, at Erbil International Airport, and the two parties will meet at a later time, in a meeting that is the fifth of its kind.
The French president is also scheduled to visit the city of Mosul, parts of which were destroyed after being in the hands of the Islamic State for three years.
The French president's delegation includes government officials, Nobel Peace Prize winner Nadia Murad, a former captive of the Islamic State who is now raising the issue of Yazidi women on international platforms, and writer and feminist activist Caroline Forrest.
The history of strong relations between France and the Kurdistan Region extends back to more than 10 years, when the then-president of the region, Massoud Barzani, was received by French President Nicolas Sarkozy on June 15, 2010.
With Macron's arrival today in Erbil, the total of 12 Kurdish-French meetings will contribute to transforming the Kurdistan Region file into a very important file in the French Republican Palace.
https://shafaq.com/ar/%D9%83%D9%88%D8%B1%D8%AF%D8%B3%D9%80%D9%80%D8%AA%D8%A7%D9%86%D9%8A%D8%A7%D8%AA/%D8%A7%D9%84%D8%B1-%D9%8A%D8%B3-%D8%A7%D9%84%D9%81%D8%B1%D9%86%D8%B3%D9%8A-%D9%8A%D8%B5%D9%84-%D8%B1%D8%A8%D9%8A%D9%84