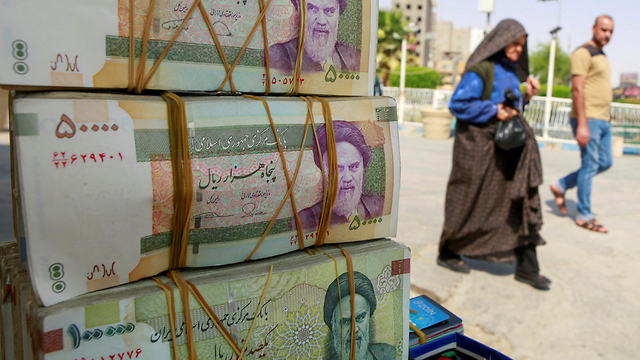 economybreakingIranian operationiranian currency rate 2021-08-25 14:46A-AA+
Shafaq News/ The Iranian currency recorded, on Wednesday, a major collapse against foreign currencies, shortly after the government of new President Ibrahim Raisi gained the confidence of the Islamic Consultative Assembly.
According to the "Aftab News" website, the price of one US dollar amounted to 280,810 Iranian riyals on the black market, while the value of the euro amounted to 320 thousand and 120 riyals, and the value of the pound sterling reached 387,560 Iranian riyals.
Since the beginning of last June, the exchange rate of the dollar has been constantly rising, and the Iranian national currency has lost about 15% of its value during this period.
Iranian officials did not say the reason for the sharp rise in the value of the dollar, but the Iranian Treasury recently reported that only "three percent" of oil revenue was generated this spring, with the withdrawal of the Iram network.
Oil was the most important source of foreign exchange in Iran in the period before the US sanctions imposed by the administration of former President Donald Trump, with annual sales of $60 billion.
According to the budget law, the government of former President Hassan Rouhani allocated $33.5 billion for oil exports for this year, of which $19 billion is a share in the general budget, but only 3% of the expected figure was achieved this spring.
The price of the dollar at the beginning of last year was 160,000 Iranian riyals, but it reached its peak last November at about 320,000 riyals.
Iran faces a problem in providing hard currencies, including the US dollar; Because of the sanctions imposed by the administration of former US President Donald Trump, after withdrawing in 2018 from the 2015 nuclear agreement, the Iranian government was also prevented from accessing its blocked funds in foreign banks.
The depreciation of the Iranian riyal affected the living and economic conditions in the country, as the prices of basic materials rose several times, and gold prices and the prices of cars and homes rose several times as well, and all the measures taken by the government of former Iranian President Hassan Rouhani failed to limit the price hike.
https://shafaq.com/ar/%D8%A7%D9%82%D8%AA%D8%B5%D9%80%D8%A7%D8%AF/%D8%A7%D9%86%D9%87%D9%8A%D8%A7%D8%B1-%D9%83%D8%A8%D9%8A%D8%B1-%D9%84%D9%84%D8%B9%D9%85%D9%84%D8%A9-%D8%A7%D9%84-%D9%8A%D8%B1%D8%A7%D9%86%D9%8A%D8%A9