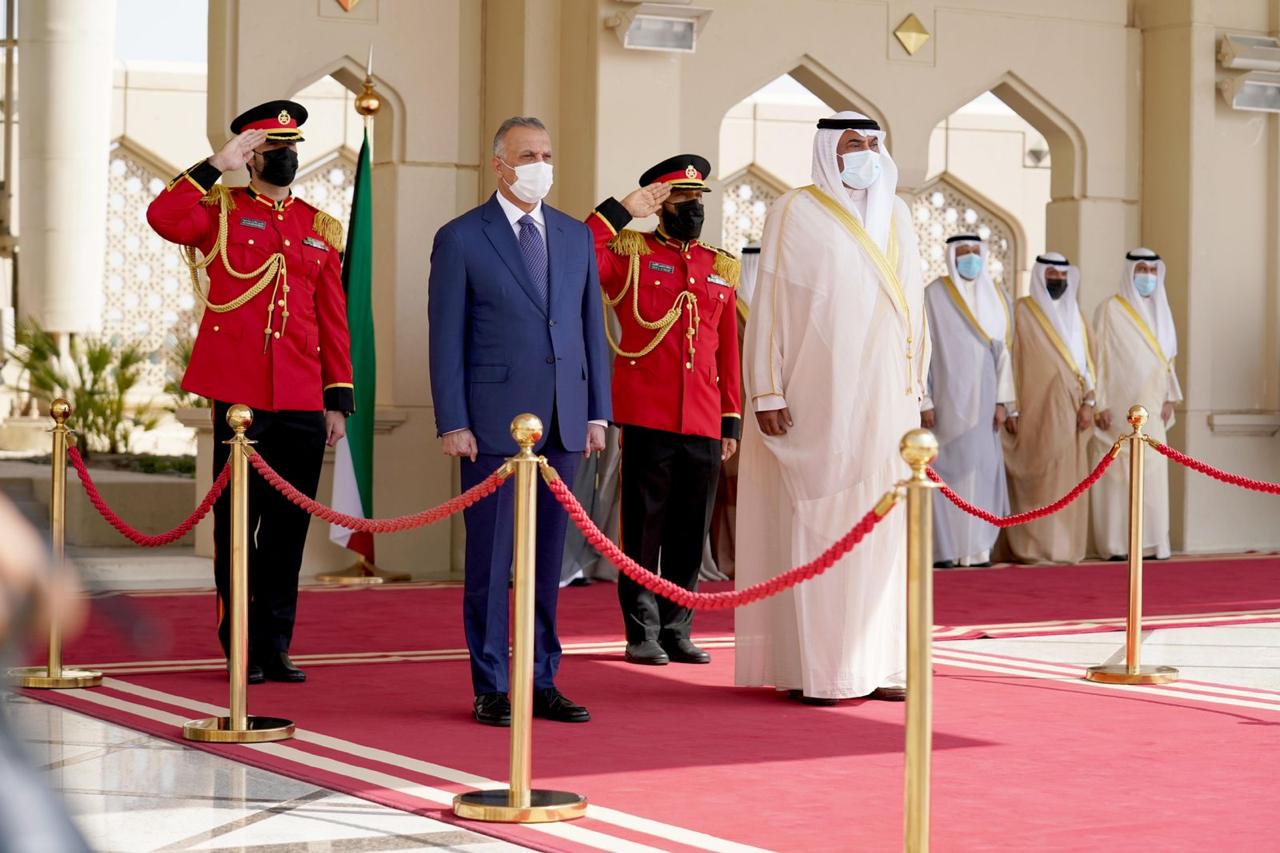 politicsKuwaitIraq 2021-08-22 07:00A-AA+
Shafaq News/ The Emir of Kuwait, Nawaf Al-Ahmad, received today, Sunday, Iraqi Prime Minister Mustafa Al-Kazemi and the accompanying delegation, on the occasion of his official visit to the country.
According to an official statement issued by Kuwait, during the meeting, bilateral relations linking the two countries and peoples were reviewed.
The statement indicated the common determination to enhance cooperation in various fields and at all levels and ways to develop bilateral trade between the two countries in light of the desire to develop bilateral partnership and play an effective role in the field of sustainable development and industrial and commercial investment.
According to the statement, the most prominent issues of common concern and the latest developments in the region were discussed.
Prime Minister Mustafa Al-Kazemi arrived this morning, Sunday, to the State of Kuwait, at the head of a high-ranking government delegation.
Al-Kazemi said in a statement before his departure, that the visit comes as part of the government's efforts; To strengthen cooperation and bilateral relations with various countries, including the sisterly State of Kuwait.
He explained that the visit will discuss many economic, political, energy, investment and other files, and enhance them to serve the interests of the two brotherly peoples.
https://shafaq.com/ar/%D8%B3%DB%8C%D8%A7%D8%B3%D8%A9/%D8%A8%D9%8A%D8%A7%D9%86-%D9%84%D9%84%D9%82%D8%A7-%D8%A7%D9%84%D9%83%D8%A7%D8%B8%D9%85%D9%8A-%D9%85%D8%B9-%D9%85%D9%8A%D8%B1-%D8%A7%D9%84%D9%83%D9%88%D9%8A%D8%AA-%D9%88%D8%AC%D9%88%D8%AF-%D8%B1%D8%BA%D8%A8%D8%A9-%D9%84%D8%AA%D9%86%D9%85%D9%8A%D8%A9-%D8%A7%D9%84%D8%B4%D8%B1%D8%A7%D9%83%D8%A9-%D8%A8%D9%8A%D9%86-%D8%A7%D9%84%D8%A8%D9%84%D8%AF%D9%8A%D9%86