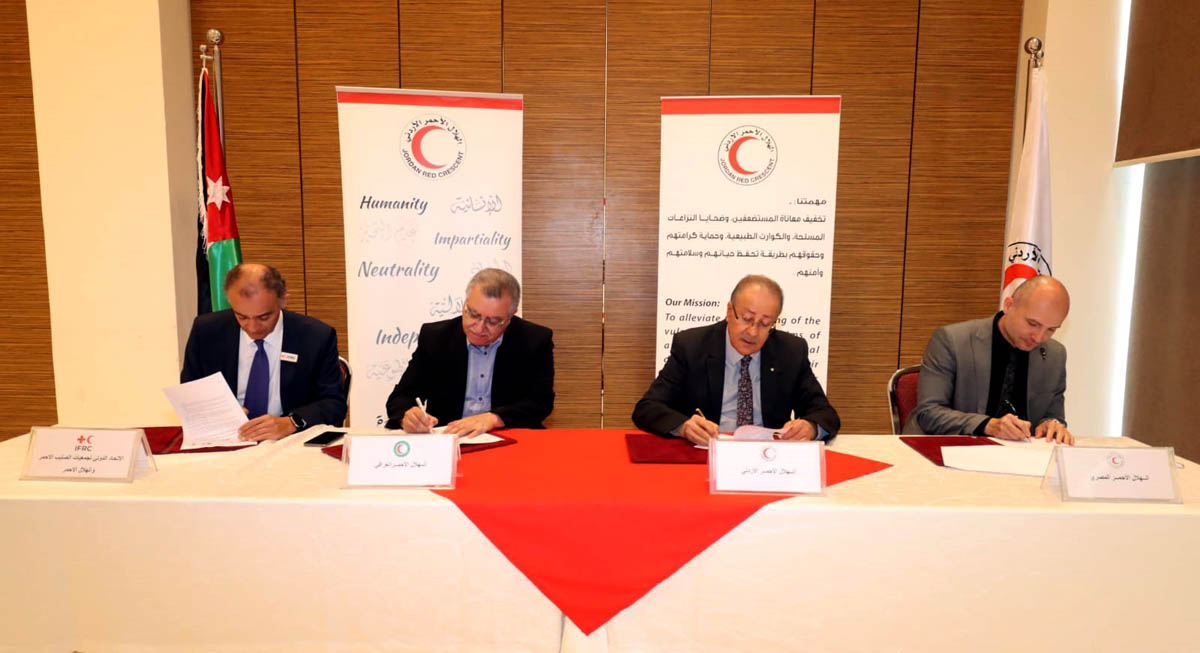 politicsIraqJordanEgyptnew agreement 2021-08-12 06:16A-AA+
Shafaq News/ Today, Thursday, an agreement was signed to enhance inter-tripartite cooperation, especially in the humanitarian field, between the Jordanian, Iraqi and Egyptian Red Crescent societies, based on the outcomes of the tripartite summits between the political leaders of the three countries, during the past two years, which culminated in the Baghdad Summit last June.
In a news release published today, the official Jordanian news agency, Petra, stated that under the agreement, which was initiated by the regional delegation of the International Federation of Red Cross and Red Crescent Societies, it was agreed to combine humanitarian efforts to draw a model for cooperation and integration in the fields of humanitarian and development work and community service.
According to the agency, the agreement aims to enhance cooperation between the three National Societies in the areas of common challenges and to take advantage of available opportunities to highlight their role as a major contributor in humanitarian fields related to the priorities referred to in the Tripartite Summit Declaration.
The National Societies agreed to set priorities for cooperation in the areas of health emergencies, especially with regard to the Covid-19 pandemic, and its social and economic impacts, and to form a technical working group that would formulate a map for joint training of National Societies staff and volunteers, mobilize the necessary resources for its implementation, and formulate a unified program for National Societies to enhance their capabilities with the support of From the International Federation's Capacity Building Fund and other institutional development support funds, and preparing a practical program for cooperation in the areas of common challenges, especially climate change, food security and livelihoods, and drawing a map for joint exchange, according to the agency.
The news indicated that it was agreed to establish a joint fund to be contributed equally by the National Societies, and the fund may receive additional unconditional aid.
The agreement was signed by the General President of the Jordanian Red Crescent, Muhammad Al-Hadid, the President of the Iraqi Red Crescent Yassin Abbas, the Executive Director of the Egyptian Red Crescent, Rami Al-Nazer, and the Regional Director of the International Federation of the Red Cross and Red Crescent, Hussam Sharkawy.
https://shafaq.com/ar/%D8%B3%DB%8C%D8%A7%D8%B3%D8%A9/%D8%A7%D9%84%D8%B9%D8%B1%D8%A7%D9%82-%D9%8A%D8%A8%D8%B1%D9%85-%D8%A7%D8%AA%D9%81%D8%A7%D9%82%D9%8A%D8%A9-%D8%AC%D8%AF%D9%8A%D8%AF%D8%A9-%D9%85%D8%B9-%D8%A7%D9%84-%D8%B1%D8%AF%D9%86-%D9%88%D9%85%D8%B5%D8%B1