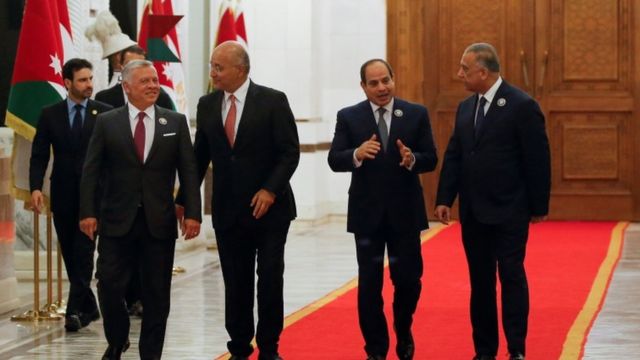 politicsParliamentary Foreign AffairsBaghdad summit 2021-08-08 07:54A-AA+
Shafaq News/ The Parliamentary Foreign Committee revealed on Sunday the names of the Arab and foreign countries that will participate in the Baghdad summit.
Committee member Amer Al-Fayez told Shafaq News Agency, "Iraq seeks to take its regional and leadership position in the region, after the success of Iraqi diplomacy and work on security, political and economic stability in the regional region."
He added that "there are about 10 countries that will participate in the regional summit in the capital, Baghdad, including Turkey, Iran, Saudi Arabia and other Arab countries, in addition to the participation of European countries and the United States of America."
Al-Fayez said, "The regional summit will discuss controlling borders between countries, strengthening the security, political and economic aspects, resolving the water crisis and contributing to resolving differences between some countries in the region."
And earlier on Sunday, Iraqi Foreign Minister Fouad Hussein met with Turkish President Recep Tayyip Erdogan in the Turkish capital, Ankara.
And the Iraqi Foreign Ministry said in a statement received by Shafaq News Agency, that "Hussein handed the Turkish president an invitation letter from Prime Minister Mustafa Al-Kazemi to attend the summit meeting to be held in Baghdad at the end of this month at the level of leaders of Iraq's neighboring countries."
She added, "During the meeting, a number of issues related to bilateral relations and the situation in the region were discussed."
A source in the Iraqi government revealed, to Shafaq News, earlier that Al-Kazemi is working to establish a regional summit in the capital, Baghdad.
The source also said that it is hoped that the countries surrounding Iraq will participate in this summit, in addition to Qatar, the UAE and Egypt, to be held after the middle of this month.
Last June, Al-Kazemi's government succeeded in hosting Egyptian President Abdel Fattah Al-Sisi and King Abdullah II of Jordan in the capital, Baghdad, at a tripartite summit.
Al-Kazemi's government has been working since taking power a year ago to restore Iraq's relations with its Arab and regional surroundings, after the tension witnessed by previous governments.
https://shafaq.com/ar/%D8%B3%DB%8C%D8%A7%D8%B3%D8%A9/%D8%A8%D9%8A%D9%86%D9%87%D8%A7-%D9%8A%D8%B1%D8%A7%D9%86-%D9%88%D8%AA%D8%B1%D9%83%D9%8A%D8%A7-%D9%88%D8%A7%D9%84%D8%B3%D8%B9%D9%88%D8%AF%D9%8A%D8%A9-%D8%A7%D9%84%D8%AE%D8%A7%D8%B1%D8%AC%D9%8A%D8%A9-%D8%AA%D8%B3%D9%85-%D9%8A-%D8%AF%D9%88%D9%84%D8%A7-%D8%B3%D8%AA%D8%B4%D8%A7%D8%B1%D9%83-%D9%81%D9%8A-%D9%82%D9%85%D8%A9-%D8%A8%D8%BA%D8%AF%D8%A7%D8%AF