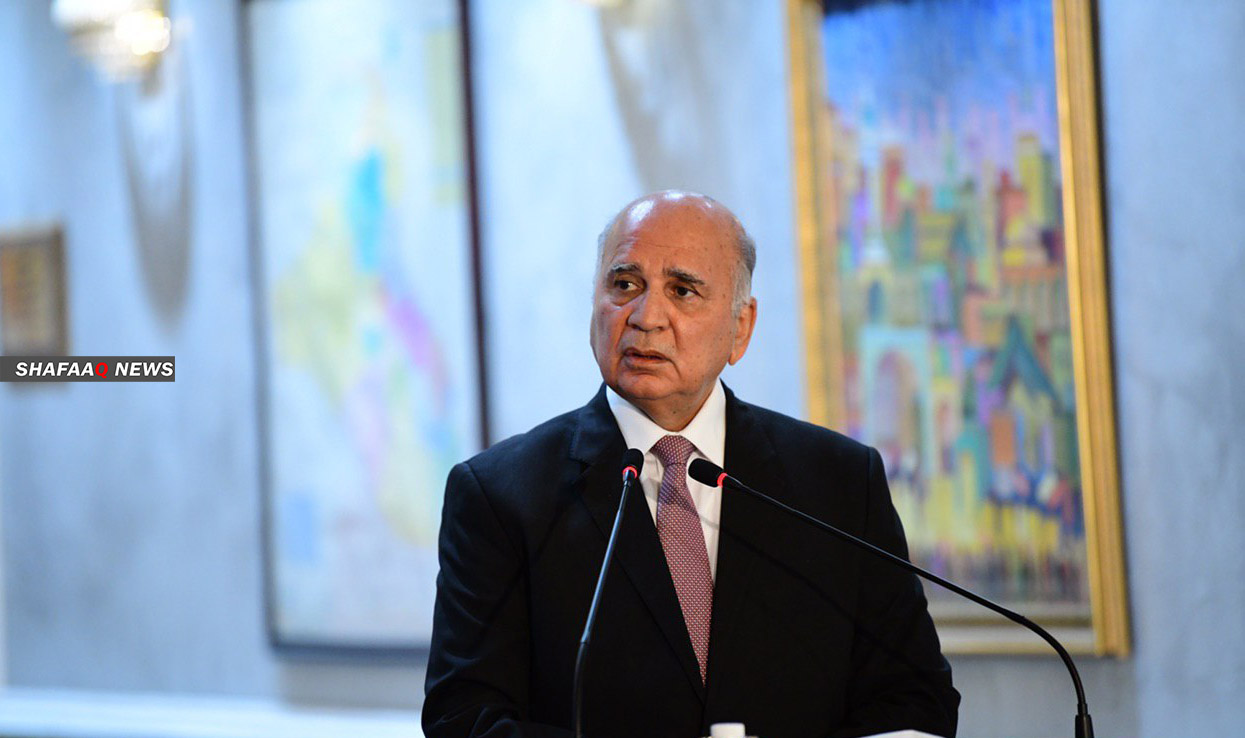 politicsWashingtonbreakingStrategic Dialoguefor kazami 2021-07-20 10:38A-AA+
Shafaq News/ The Iraqi Ministry of Foreign Affairs announced, on Tuesday, the arrival of the "negotiating" delegation to the American capital, Washington, in preparation for the strategic dialogue that will be led by Prime Minister Mustafa Al-Kazemi.
Ministry spokesman Ahmed Al-Sahaf said, in a statement received by Shafak News Agency, that Foreign Minister Fouad Hussein arrived today in Washington at the head of the negotiating delegation to hold the fourth round of strategic dialogue to be held on Monday, July 23, 2021 between Iraq and the United States of America.
The Foreign Ministry statement indicated that Minister Hussein will head the Iraqi delegation in this round of negotiations, while the American delegation will be headed by Foreign Minister Anthony Blinken.
The statement indicated that this round of negotiations comes as a prelude to a dialogue that will be led by Prime Minister Mustafa Al-Kazemi on the Iraqi side, and on the American side, President Joe Biden.
US President Joe Biden will receive Iraqi Prime Minister Mustafa Al-Kazemi on July 26 in the American capital, Washington, according to what the White House announced last Friday.
This visit will allow "confirmation of the strategic partnership" between the two countries, according to a White House statement.
The US presidency indicated that Biden "also looks forward to strengthening bilateral cooperation with Iraq on political, economic and security issues" and especially "joint efforts to ensure the enduring defeat" of ISIS.
It is assumed that the strategic dialogue between Baghdad and Washington will lead to setting a timetable for the withdrawal of the international coalition fighting ISIS.
There are still about 3,500 foreign soldiers on Iraqi soil, including 2,500 Americans, but the process of their withdrawal may take years to complete.
About fifty missile or drone attacks have targeted US interests in Iraq since the beginning of the year. These attacks, which were not claimed by any party, are attributed to the Popular Mobilization Forces, an alliance of pro-Iranian factions integrated into the Iraqi government forces.
https://shafaq.com/ar/%D8%B3%DB%8C%D8%A7%D8%B3%D8%A9/%D9%88%D9%81%D8%AF-%D8%B9%D8%B1%D8%A7%D9%82%D9%8A-%D9%85%D9%81%D8%A7%D9%88%D8%B6-%D9%8A%D8%B5%D9%84-%D9%88%D8%A7%D8%B4%D8%B7%D9%86-%D8%AA%D9%85%D9%87%D9%8A%D8%AF%D8%A7-%D9%84%D8%B2%D9%8A%D8%A7%D8%B1%D8%A9-%D8%A7%D9%84%D9%83%D8%A7%D8%B8%D9%85%D9%8A