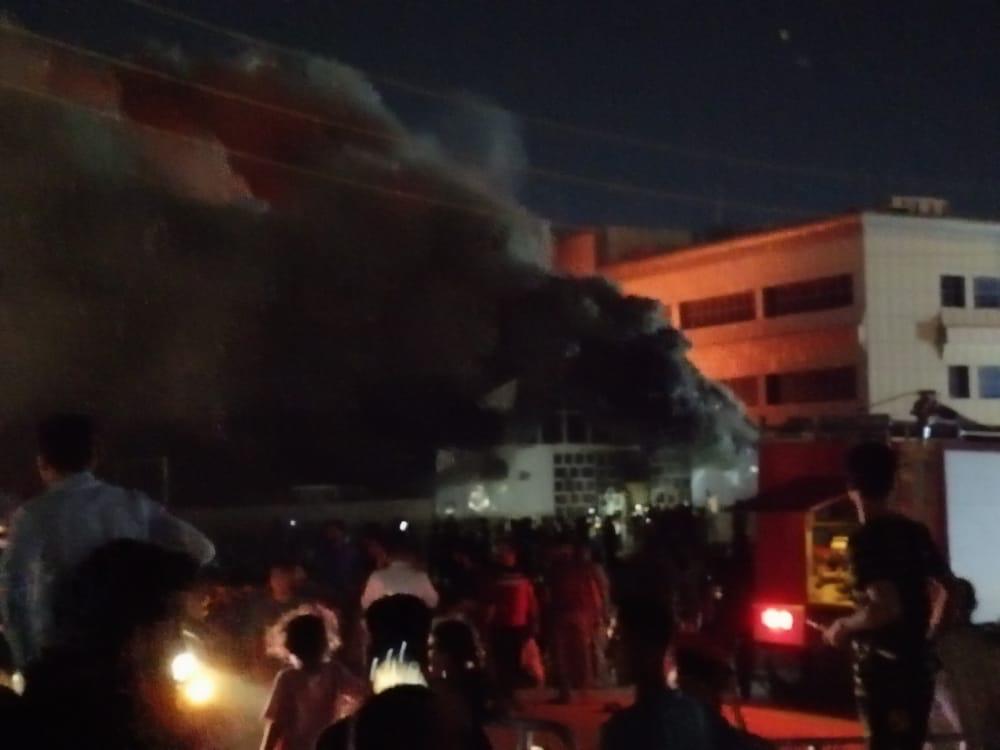 securitybreakingfireDhi Qarhospital 2021-07-12 16:40A-AA+
Shafaq News/ A medical source reported that the death toll from the massive fire that is still devouring a center for the isolation of people infected with Corona virus in the city of Nasiriyah, the center of Dhi Qar governorate, has risen.
The source told Shafaq News Agency, that at least 36 people were killed and their bodies charred as a result of the fire, in addition to dozens of others suffering burns and cases of suffocation in the Al-Shifa Center fire at Al-Hussein Teaching Hospital in Nasiriyah.
The medical source suggested that the death toll would exceed 50 as a result of the fire, noting that the fate of dozens of patients and their companions is still unknown.
For his part, a security source told Shafaq News Agency, "3 oxygen cylinders exploded inside the center as a result of the fire."
A source in the Civil Defense also reported that explosions continued in the hospital, caused by oxygen cylinders and refrigeration equipment.
Civil defense teams and medical personnel in Dhi Qar entered a state of alert to contain the fire and treat the wounded, among the patients' families gathering in front of the hospital.
The Director General of Civil Defense, Major General Kazem Bohan, also went to Nasiriyah.
Usually, Corona virus isolation centers contain a lot of oxygen cylinders, which cause huge explosions if the fire reaches them.
And last April, a similar massive fire occurred at Ibn Al-Khatib Hospital in Baghdad, which treats patients with the Corona virus, as a result of an oxygen cylinder explosion.
According to the Iraqi Ministry of Interior, the accident left 82 people dead and 110 wounded, but the Human Rights Commission (officially linked to Parliament) said that the fire left 130 people dead.
https://shafaq.com/ar/%D8%A3%D9%85%D9%80%D9%86/%D8%A7%D8%B1%D8%AA%D9%81%D8%A7%D8%B9-%D9%88%D9%81%D9%8A%D8%A7%D8%AA-%D9%81%D8%A7%D8%AC%D8%B9%D8%A9-%D9%85%D8%B3%D8%AA%D8%B4%D9%81%D9%89-%D8%A7%D9%84%D8%AD%D8%B3%D9%8A%D9%86-%D9%84%D9%89-30-%D8%B4%D8%AE%D8%B5%D8%A7-%D8%B9%D9%84%D9%89-%D8%A7%D9%84-%D9%82%D9%84