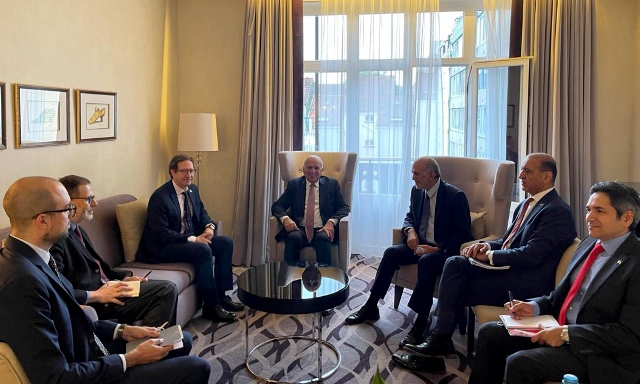 politicsEuropean ParliamentIraqi governmentIraqi Foreign Ministry 2021-07-01 06:09A-AA+
Shafaq News/ The European Parliament praised, on Thursday, the Iraqi government's adoption of a balanced policy that distances itself from blocs and ditches, praising its quest to open up to the countries of the region.
The Iraqi Foreign Ministry said in a statement received by Shafaq News Agency, that its Minister Fouad Hussein received, today, at his residence in Brussels, the Chairman of the Committee on Relations with Iraq in the European Parliament, the Spanish Socialist Representative Domenez Ruiz Deveza and his accompanying delegation, indicating that during the meeting, prospects for cooperation were discussed. Between the two sides and ways to develop bilateral relations and cooperation Partnership between Iraq and the European Union.
According to the statement, the minister presented a summary of the latest political developments in Iraq and the region, especially the issue of holding parliamentary elections and the great importance they represent for strengthening the political process in Iraq, praising the European Union's decision to participate in election monitoring, stressing the need for continued European support for Iraq in all fields.
And he indicated that the meeting comes within the framework of the visit of Prime Minister Mustafa Al-Kazemi and his accompanying delegation to the Belgian capital, Brussels.
For his part, Representative Devisa referred to the continuous work and coordination with the embassy to raise the level of cooperation between the two sides, especially since Iraq is an important political, economic and security partner of the European Union.
According to the statement of the Iraqi Foreign Ministry, Devisa praised the Iraqi government's adoption of a balanced policy, away from blocs and ditches, and its quest to open up to all countries in the region. He also expressed his happiness with the success of the Pope's visit to Iraq and the positive messages it sent to the world
He affirmed his personal support for the success of the upcoming elections in Iraq, expressing his desire to visit Iraq within the European team to monitor the upcoming Iraqi elections.
https://shafaq.com/ar/%D8%B3%DB%8C%D8%A7%D8%B3%D8%A9/%D8%A7%D9%84%D8%A8%D8%B1%D9%84%D9%85%D8%A7%D9%86-%D8%A7%D9%84%D8%A7%D9%88%D8%B1%D9%88%D8%A8%D9%8A-%D9%8A%D8%B4%D9%8A%D8%AF-%D8%A8%D8%A7%D8%A8%D8%AA%D8%B9%D8%A7%D8%AF-%D8%AD%D9%83%D9%88%D9%85%D8%A9-%D8%A7%D9%84%D9%83%D8%A7%D8%B8%D9%85%D9%8A-%D8%B9%D9%86-%D8%A7%D9%84%D8%AA%D9%83%D8%AA%D9%84%D8%A7%D8%AA-%D9%88%D8%A7%D9%84%D8%AA%D8%AE%D9%86%D8%AF%D9%82%D8%A7%D8%AA