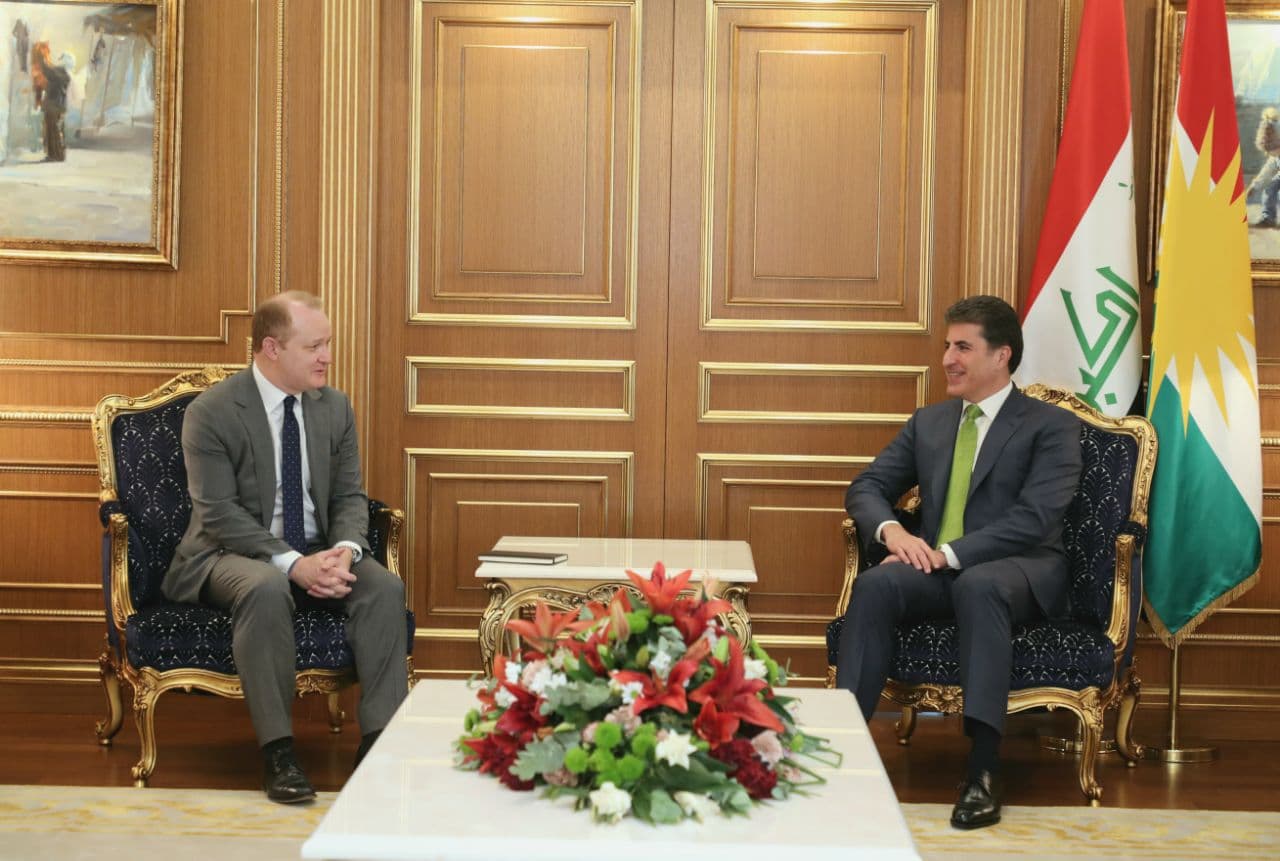 Kurdistan womenISISIraqKurdistan RegionNechirvan BarzaniSyriaAmerican envoy 2021-06-25 06:51A-AA+
Shafaq News/ The President of Kurdistan Region, Nechirvan Barzani received this Friday noon the acting US special envoy for the international coalition against ISIS "Jeanne Godfrey" and his accompanying delegation.
A statement issued by the Presidency of the Region stated that the two sides discussed during the meeting the latest developments in the fight against terrorism and the threats and movements of ISIS in Iraq, and stressed the intensification of efforts and cooperation between the Iraqi army and the Peshmerga forces with the support of the International Coalition to completely eliminate ISIS, especially in areas that witness security gaps.
The statement added that the two sides agreed that the continuation of ISIS attacks poses a real threat and a serious threat to the security of Iraq, Syria, the region, as well as African countries, and stressed that the war against ISIS and violence is not limited to military operations only, and in this regard, reference was made to the situation in Al-Hol camp. In Syria, it was stressed the need to work to prevent creating a ground for violence in it.
The statement noted the importance of helping and assisting the displaced as a result of the war against ISIS to return to their homes, the repeated targeting of US forces and their allies in Iraq, joint efforts and pluralistic cooperation in protecting security and stability in the region, the current and future situation of Syria and the Kurdish issue in that country, and next week's conference of ministers The international coalition against ISIS, which is scheduled to be held in Rome, in addition to other important issues, was another part of the meeting, which was also attended by the US Consul General in Erbil.
https://shafaq.com/ar/%D9%83%D9%88%D8%B1%D8%AF%D8%B3%D9%80%D9%80%D8%AA%D8%A7%D9%86%D9%8A%D8%A7%D8%AA/%D9%86%D9%8A%D8%AC%D9%8A%D8%B1%D9%81%D8%A7%D9%86-%D8%A8%D8%A7%D8%B1%D8%B2%D8%A7%D9%86%D9%8A-%D9%88%D9%85%D8%A8%D8%B9%D9%88%D8%AB-%D9%85%D8%B1%D9%8A%D9%83%D9%8A-%D9%8A%D8%B4%D8%AF%D8%AF%D8%A7%D9%86-%D8%B9%D9%84%D9%89-%D8%A7%D9%84%D8%AA%D8%B9%D8%A7%D9%88%D9%86-%D8%A8%D9%8A%D9%86-%D8%A7%D9%84%D8%AC%D9%8A%D8%B4-%D9%88%D8%A7%D9%84%D8%A8%D9%8A%D8%B4%D9%85%D8%B1%D9%83%D8%A9-%D9%84%D9%84%D9%82%D8%B6%D8%A7-%D8%B9%D9%84%D9%89-%D8%AF%D8%A7%D8%B9%D8%B4