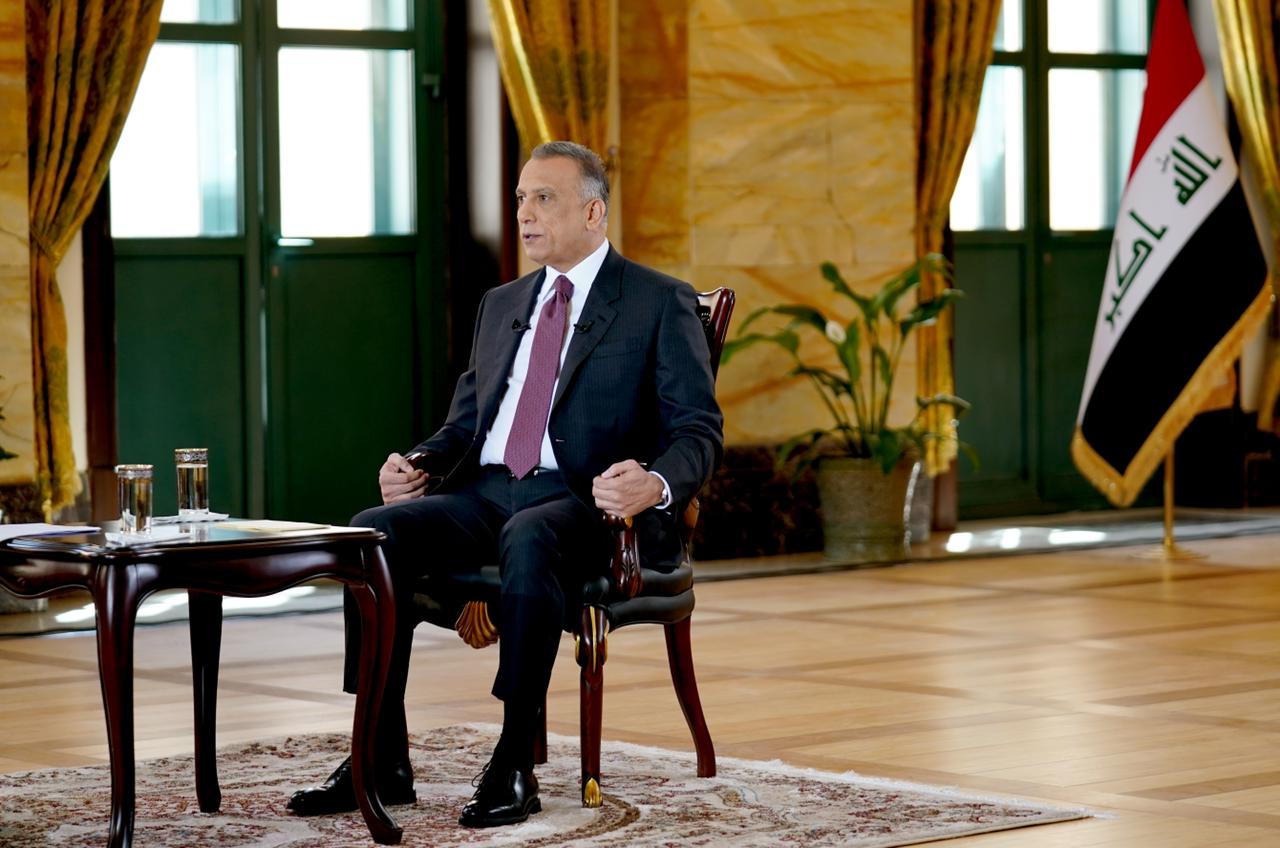 politicsAl-KazemiRegioncrises 2021-06-26 00:55A-AA+
Shafaq News/ On Saturday, Prime Minister Mustafa Al-Kazemi expressed his optimism about the existence of positive signs in resolving the crises taking place in the region, at a time when he renewed his warning against terrorism and its impact on peoples.
This came in an article he published today, titled "A historical necessity whose password is: "Restoring confidence."
Al-Kazemi said in the article: Positive signs are looming in our region and the will of its political leaders are moving towards starting to alleviate the crises that have befallen them and making every concerted effort to zero them, which requires us to give priority to the commonalities that unite our peoples by restoring the historical depth and the opposite interaction that was at the basis of producing values Ethics, a scientific and philosophical inheritance, and knowledge in language, culture, arts, and astronomy enriched human existence.
And he added, "Iraq, as a people and a country, has gone through bitter experiences that were not limited to negative repercussions only on us, but also affected the countries of the region and led to regional and international setbacks that are no less dangerous in their repercussions and complications than the complexity of the Iraqi scene."
Al-Kami added: Our Iraqi people realize, based on their historical experiences, that any imbalance experienced by the region, whether in its balances or in its inter-relations, such as what was the basis for the absence of the weight of Iraq with all that it constituted, in the past years in particular, led to deep rifts in the Arab scene. And the regional is not in isolation, but in conjunction with the crises and confrontations that the internal situation in Iraq has been subjected to, bringing it to the brink of deterioration.
He continued by saying: It is no longer possible to coexist with such crises, which is what prompted our Iraqi people to bear a heavy responsibility for healing our national wound, to prevent it from recurring, difficult to treat and exacerbation, indicating that the recovery of our Iraq is only a contribution to the recovery and revival of our Arab world, and this is our common national and national responsibility. .
And the current Iraqi prime minister added, by saying: Among the reasons for our recovery at all levels and fields, is our concerted efforts to confront our common enemy after describing it and confronting it with all means necessary to uproot its roots and incubators in our countries and in the entire region.
And he went on in his article that: Our common enemy is terrorism with its various faces and facades, and its takfiri approach and perverted tendencies. They are the Kharijites of the age who live on hatred, grudges and rejection of the other, falsifying heritage and the Prophet's Sunnah and cutting the clear verses from the Book of God the Qur'an and employing them for their misguided aims that offend the values ​​of the tolerant Islamic religion.
Al-Kazemi also indicated that the terrorists use all misleading methods to negate every aspect of tolerance and coexistence that has been enshrined in the conscience of our peoples over thousands of years of bonds of love, cooperation and mutual respect among the components of our peoples within the framework of their diversity, pluralism and unity, and among them ideals and human values ​​spread, and enriched by the heritage of their authentic culture.
He continued by saying: We look forward to spreading the values of convergence, tolerance and goodwill among us as peoples and nations, brothers, neighbors and friends, and such cohesion would formulate an understanding of the world as it moves at an accelerating pace in the path of development and progress so that it makes us closer to realizing what raises us anxiety and the causes surrounding us Underdevelopment is at the tail of nations and the peace of human civilization.
https://shafaq.com/ar/%D8%B3%DB%8C%D8%A7%D8%B3%D8%A9/%D8%A7%D9%84%D9%83%D8%A7%D8%B8%D9%85%D9%8A-%D8%A8%D9%88%D8%A7%D8%AF%D8%B1-%D8%A7%D9%8A%D8%AC%D8%A7%D8%A8%D9%8A%D8%A9-%D8%AA%D9%84%D9%88%D8%AD-%D9%81%D9%8A-%D9%85%D9%86%D8%B7%D9%82%D8%AA%D9%86%D8%A7-%D9%88%D8%AA%D8%AD%D8%B1%D9%83-%D8%A7%D8%B1%D8%A7%D8%AF%D8%A7%D8%AA-%D9%86%D8%AD%D9%88-%D8%A7%D9%84%D8%B4%D8%B1%D9%88%D8%B9-%D9%81%D9%8A-%D8%A7%D9%84%D8%AA%D8%AE%D9%81%D9%8A%D9%81-%D9%85%D9%86-%D8%A7%D9%84%D8%A7%D8%B2%D9%85%D8%A7%D8%AA