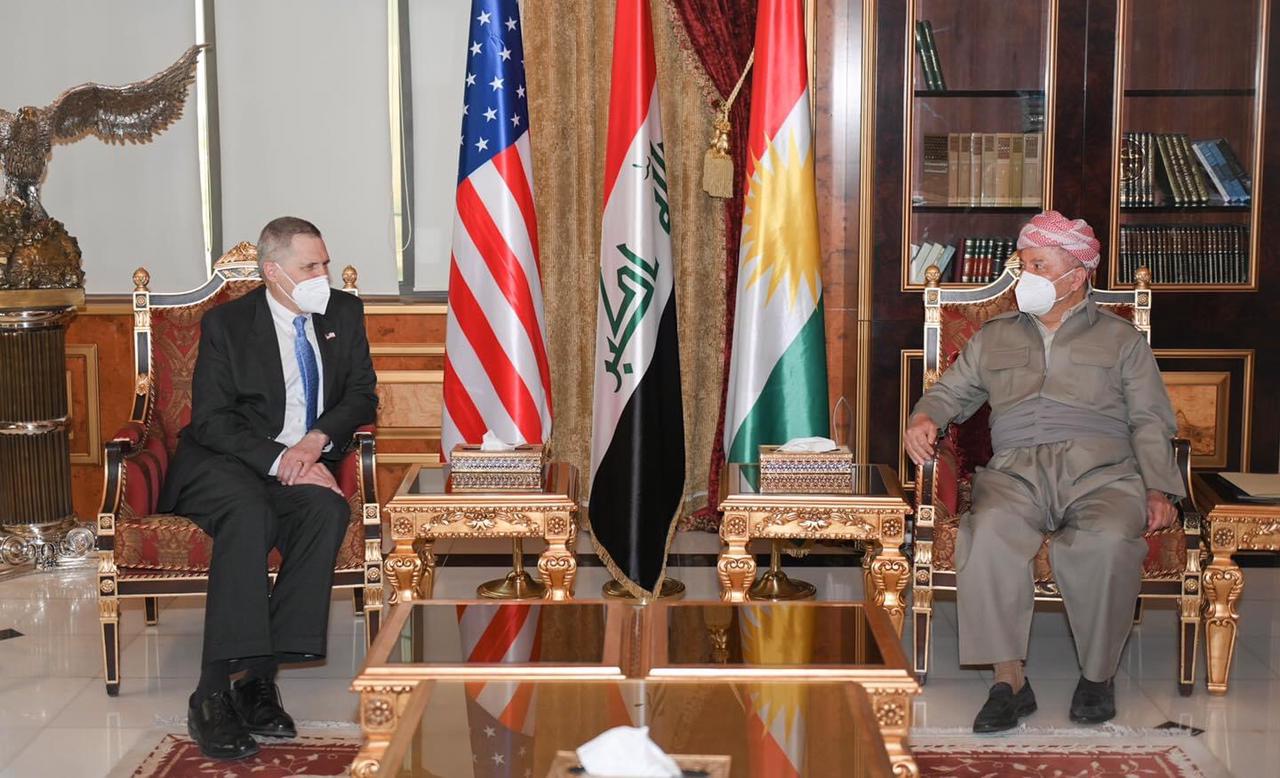 Kurdistan womenMasoud BarzaniKurdistan RegionbreakingMatthew Toler 2021-06-21 06:31A-AA+
Shafaq News/ Kurdish leader Massoud Barzani met on Monday with the US Ambassador to Iraq Matthew Tueller.
A statement by Barzani's office said that the two sides discussed the political situation, the upcoming Iraqi elections, and the concerns and challenges facing the political process in Iraq.
For his part, the US ambassador offered his condolences to Barzani for the recent fall of a number of Peshmerga forces at the hands of PKK militants, stressing his country's interest in the security and stability of the region and Iraq.
Tueller said, "The region is a model of stability and development compared to other parts of Iraq."
The meeting also discussed steps to reorganize the Peshmerga and reforms in the Ministry of Peshmerga, as well as the establishment of coordination centers between the Peshmerga forces and the Iraqi forces in the face of terrorism.
The two parties also discussed the level of Kurdistan universities and the attempt to develop them and their impact on the future of the region
https://shafaq.com/ar/%D9%83%D9%88%D8%B1%D8%AF%D8%B3%D9%80%D9%80%D8%AA%D8%A7%D9%86%D9%8A%D8%A7%D8%AA/%D8%A7%D9%84%D8%B3%D9%81%D9%8A%D8%B1-%D8%A7%D9%84-%D9%85%D8%B1%D9%8A%D9%83%D9%8A-%D9%84%D8%A8%D8%A7%D8%B1%D8%B2%D8%A7%D9%86%D9%8A-%D8%A7%D9%82%D9%84%D9%8A%D9%85-%D9%83%D9%88%D8%B1%D8%AF%D8%B3%D8%AA%D8%A7%D9%86-%D9%86%D9%85%D9%88%D8%B0%D8%AC-%D9%84%D9%84%D8%A7%D8%B3%D8%AA%D9%82%D8%B1%D8%A7%D8%B1-%D9%88%D8%A7%D9%84%D8%AA%D9%86%D9%85%D9%8A%D8%A9-%D9%85%D9%82%D8%A7%D8%B1%D9%86%D8%A9-%D9%85%D8%B9-%D8%A8%D8%A7%D9%82%D9%8A-%D8%AC%D8%B2%D8%A7-%D8%A7%D9%84%D8%B9%D8%B1%D8%A7%D9%82