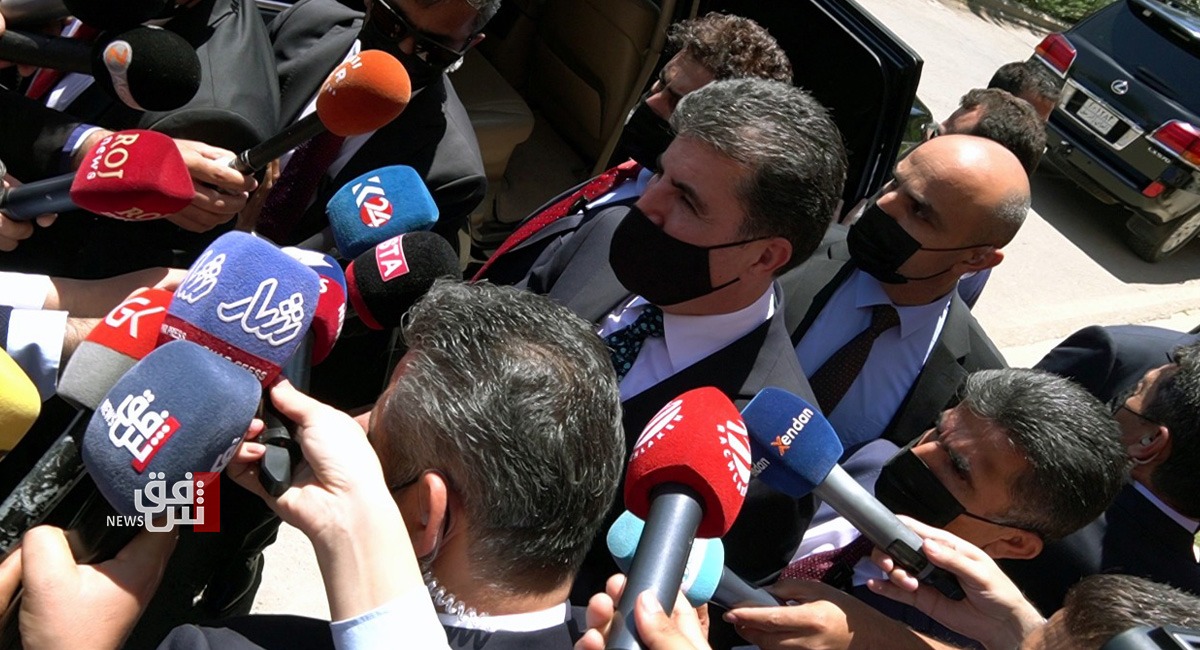 politicsBaghdadNechirvan BarzaniCenterKurdistan Regionproblems 2021-06-20 14:44A-AA+
Shafaq News/ The President of Kurdistan Region, Nechirvan Barzani confirmed, on Sunday, the possibility of resolving the existing differences between Baghdad and Erbil definitively, if there is a political will on both sides.
This came in a speech by Barzani, during a graduation ceremony for students of the American University of Kurdistan – Duhok, in the presence of senior officials.
Speaking about the relations between Baghdad and Erbil, Barzani said, "The relations between the two sides should be improved, and the old rhetoric should be stopped and resorting to the constitution to solve outstanding problems."
"We must preserve our internal unity, as it is the only guarantee for all, to stand up to these challenges," he added.
The President of the Kurdistan Region, Nechirvan Barzani, had spoken about the same issue, during his meeting with the Iraqi Prime Minister, Mustafa Al-Kazemi, in Baghdad, April 10, 2021. It works with all Iraqi components to achieve security and stability for Iraq and the region.
Although the relations between Baghdad and Erbil are continuous and continuous, they do not always appear to be passable, due to the difficulties and thorny issues they are exposed to between the two parties.
These files are centered on constitutional disputes, most notably Article 140 of the disputed areas and Article 110 of oil and gas, as well as contentious issues about the oil policy between the two parties, which began to falter clearly after 2014, especially the oil and salaries mechanism, including the Kurdistan Region's share of Federal financial budget.
https://shafaq.com/ar/%D8%B3%DB%8C%D8%A7%D8%B3%D8%A9/%D8%B1-%D9%8A%D8%B3-%D8%A7%D9%84-%D9%82%D9%84%D9%8A%D9%85-%D9%8A%D8%AF%D8%B9%D9%88-%D8%A8%D8%BA%D8%AF%D8%A7%D8%AF-%D9%84%D9%84%D9%83%D9%81-%D8%B9%D9%86-%D8%A7%D9%84%D8%AE%D8%B7%D8%A7%D8%A8%D8%A7%D8%AA-%D8%A7%D9%84%D9%82%D8%AF%D9%8A%D9%85%D8%A9-%D9%8A%D9%85%D9%83%D9%86%D9%86%D8%A7-%D8%AD%D9%84-%D8%A7%D9%84%D8%AE%D9%84%D8%A7%D9%81%D8%A7%D8%AA-%D8%A8%D8%B4%D9%83%D9%84-%D9%82%D8%B7%D8%B9%D9%8A