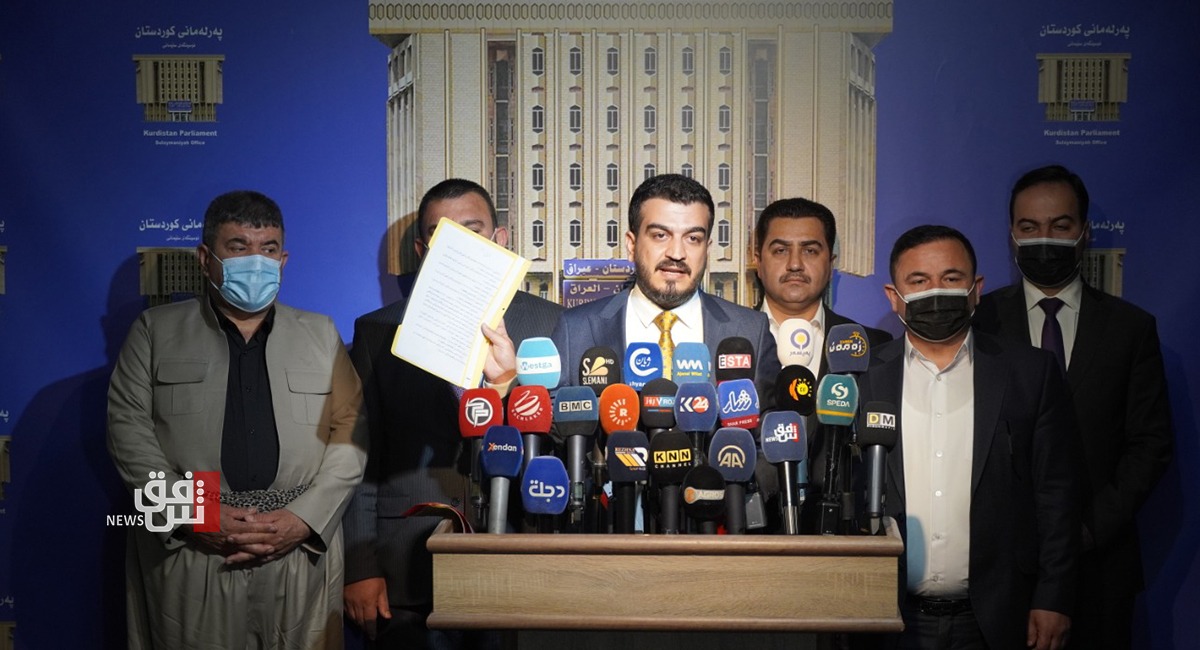 KurdistanErbilBaghdadKurdistan Parliamentan agreementDemocratic BlocTerritory share 2021-06-16 04:32A-AA+
Shafaq News/ The Kurdistan Democratic Party bloc in Kurdistan Parliament welcomed on Wednesday the approval of the Iraqi Council of Ministers to send the region's share of the financial budget for the year 2021.
The bloc's spokesman, Peshwa Hawrami, said in a press conference held today, that if this last agreement comes into force and the federal government sends the region's share, it will be an outlet or a key to resolving all differences and outstanding issues between Erbil and Baghdad.
And he added: It is also clear that the differences between Erbil and Baghdad are not limited to the budget only, and there are other issues that need dialogue, agreement and solution.
Hawrami went on to say that the federal government pledged to send the region's budget from the general budget as soon as possible, and we hope that the issue of salaries will have priority in the region's share of the budget.
A spokesman for the Democratic bloc confirmed that the regional government had, during the previous period, to pay the salaries of employees from its internal revenue.
On Tuesday, the Prime Minister of Kurdistan Regional Government, Masrour Barzani, announced that an agreement had been reached regarding the region's entitlements in the federal budget.
Barzani said in a tweet on Twitter, which was seen by Shafak News Agency; "I spoke with Federal Prime Minister Mustafa Al-Kazemi as part of the ongoing negotiations and commitment to making the relationship between Erbil and Baghdad more clear.
He added, "I am pleased to announce that an agreement has been reached according to which the dues from the federal budget will be sent back to the Kurdistan Region, with a retroactive effect, starting from January 2021."
https://shafaq.com/ar/%D9%83%D9%88%D8%B1%D8%AF%D8%B3%D9%80%D9%80%D8%AA%D8%A7%D9%86%D9%8A%D8%A7%D8%AA/%D8%A7%D9%84%D8%AF%D9%8A%D9%85%D9%82%D8%B1%D8%A7%D8%B7%D9%8A-%D8%A7%D9%84%D9%83%D9%88%D8%B1%D8%AF%D8%B3%D8%AA%D8%A7%D9%86%D9%8A-%D8%B1%D8%B3%D8%A7%D9%84-%D8%AD%D8%B5%D8%A9-%D8%A7%D9%84-%D9%82%D9%84%D9%8A%D9%85-%D9%85%D9%86-%D8%A7%D9%84%D9%85%D9%88%D8%A7%D8%B2%D9%86%D8%A9-%D8%B3%D8%AA%D9%83%D9%88%D9%86-%D9%85%D9%81%D8%AA%D8%A7%D8%AD%D8%A7-%D9%84%D8%AD%D9%84-%D8%A7%D9%84%D8%AE%D9%84%D8%A7%D9%81%D8%A7%D8%AA-%D9%83%D8%A7%D9%81%D8%A9