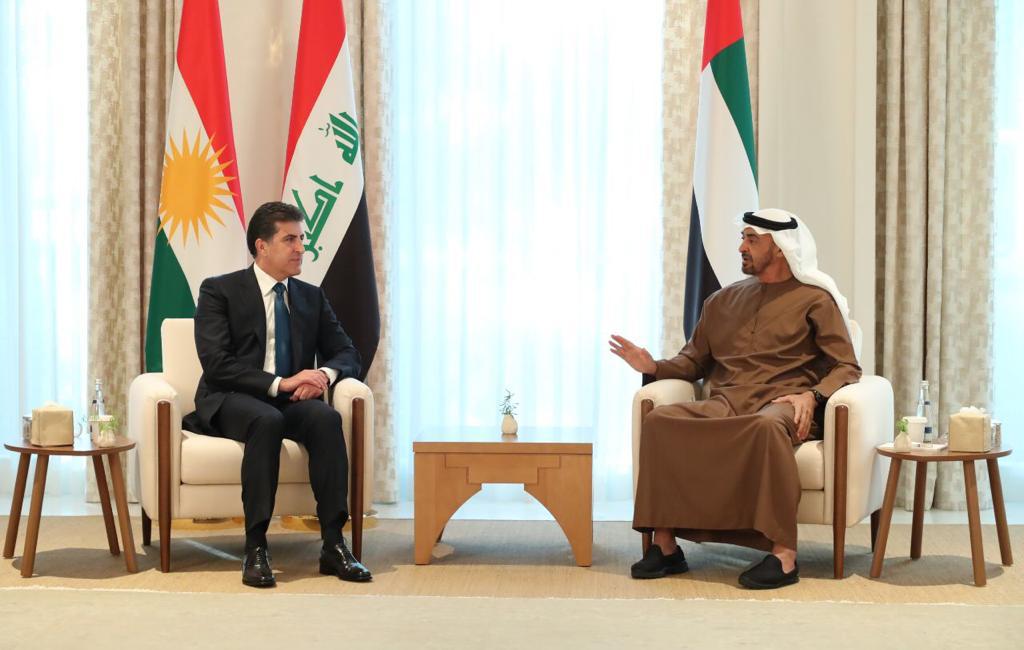 Kurdistan womenbreakingNechirvan BarzaniCrown Prince of Abu Dhabi 2021-06-12 09:04A-AA+
Shafaq News/ The President of Kurdistan Region, Nechirvan Barzani held, on Saturday, a meeting with Abu Dhabi Crown Prince, Mohammed bin Zayed, Deputy Supreme Commander of the UAE Armed Forces and Chairman of the Executive Council of the Emirate.
Shafaq News Agency obtained pictures showing part of the meeting.
Yesterday, Friday, (June 11, 2021), Nechirvan Barzani arrived in the UAE capital Abu Dhabi on his second official visit since assuming the presidency of the Kurdistan Region of Iraq.
The visit of the President of the Territory, the United Arab Emirates, comes at the official invitation of the Crown Prince of Abu Dhabi.
https://shafaq.com/ar/%D9%83%D9%88%D8%B1%D8%AF%D8%B3%D9%80%D9%80%D8%AA%D8%A7%D9%86%D9%8A%D8%A7%D8%AA/%D9%86%D9%8A%D8%AC%D9%8A%D8%B1%D9%81%D8%A7%D9%86-%D8%A8%D8%A7%D8%B1%D8%B2%D8%A7%D9%86%D9%8A-%D9%8A%D8%B9%D9%82%D8%AF-%D8%A7%D8%AC%D8%AA%D9%85%D8%A7%D8%B9%D8%A7-%D9%85%D8%B9-%D9%88%D9%84%D9%8A-%D8%B9%D9%87%D8%AF-%D8%A7%D8%A8%D9%88-%D8%B8%D8%A8%D9%8A-%D8%B5%D9%88%D8%B1