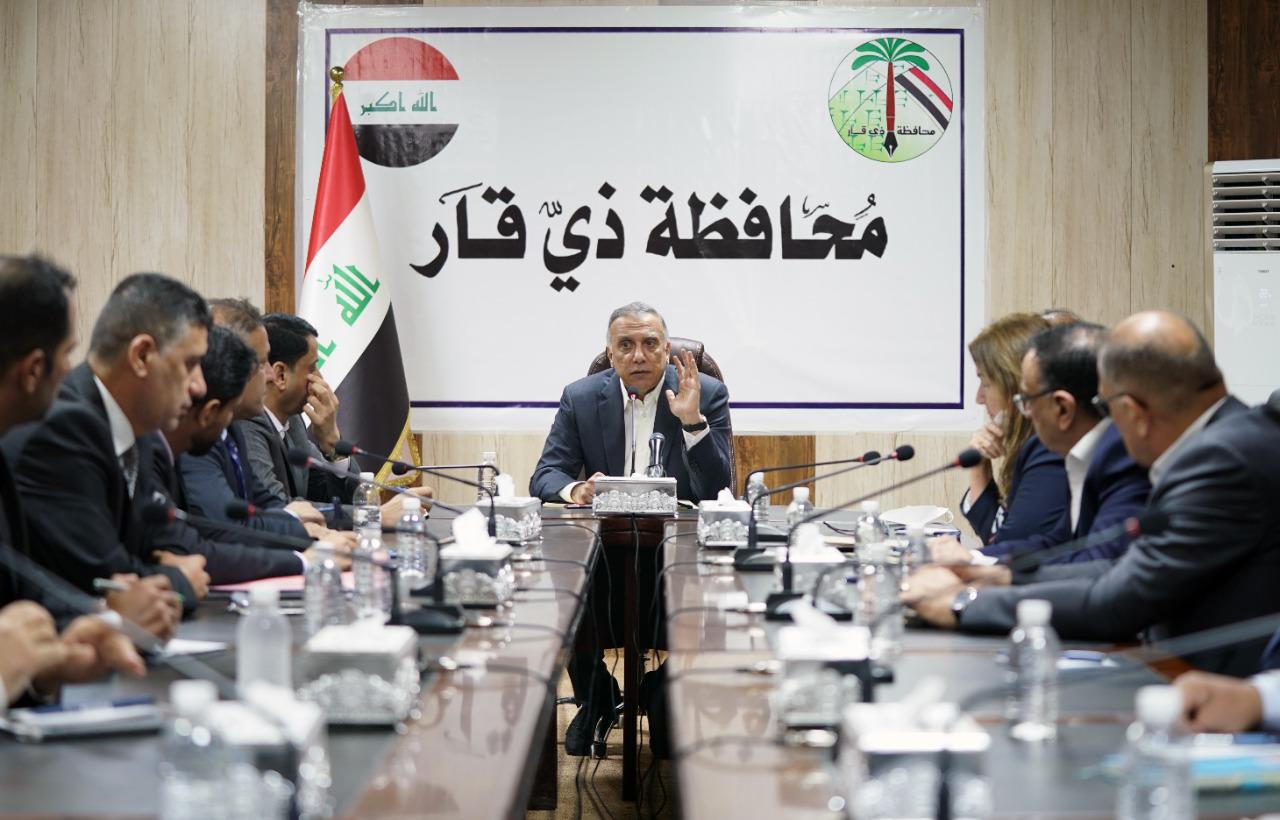 politicsIraqAl-Kazemi 2021-06-12 07:16A-AA+
Shafaq News/ Prime Minister Mustafa Al-Kazemi said on Saturday that his current government, which he heads, is "largely constrained due to the restriction of the financial budget" for the year 2021.
This came while presiding over a meeting that included directors of service departments in Dhi Qar Governorate.
Al-Kazemi said during the meeting, that the reconstruction and service projects in Dhi Qar governorate have been delayed for many years, due to the accumulated and ongoing crises.
He added: Today, we are facing relative stability, which we must preserve and invest in to move forward strongly towards providing services to our people in the governorate and launching and completing construction projects in it.
Al-Kazemi indicated that "there are strategic projects such as Nasiriyah Airport, which today we laid the cornerstone for construction and rehabilitation. I call on everyone to cooperate in achieving it as soon as possible."
He continued by saying: Large projects in Dhi Qar governorate, such as Nasiriyah Airport, may open the way for several and varied investments in the fields of tourism, transport and trade.
The Prime Minister said: We have directed an inventory of lagging projects to address them. The people of Nasiriyah are our people and deserve all our efforts and sincerity, after years of deprivation and the accumulated problems they have suffered.
https://shafaq.com/ar/%D8%B3%DB%8C%D8%A7%D8%B3%D8%A9/%D8%A7%D9%84%D9%83%D8%A7%D8%B8%D9%85%D9%8A-%D8%A7%D9%84%D8%AD%D9%83%D9%88%D9%85%D8%A9-%D8%A7%D9%84%D8%AD%D8%A7%D9%84%D9%8A%D8%A9-%D9%85%D9%83%D8%A8%D9%84%D8%A9-%D8%A8%D8%B4%D9%83%D9%84-%D9%83%D8%A8%D9%8A%D8%B1-%D8%A8%D8%B3%D8%A8%D8%A8-%D8%AA%D9%82%D9%8A%D9%8A%D8%AF-%D8%A7%D9%84%D9%85%D9%88%D8%A7%D8%B2%D9%86%D8%A9-%D8%A7%D9%84%D9%85%D8%A7%D9%84%D9%8A%D8%A9