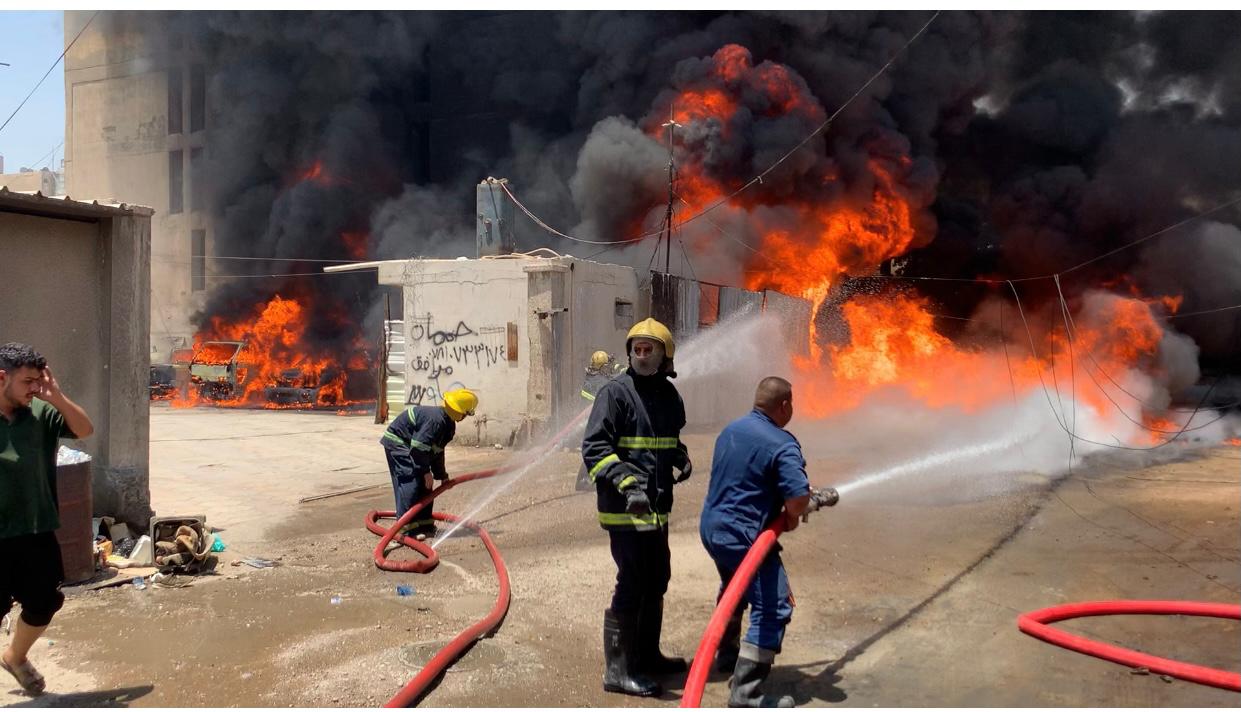 AssembledBaghdadfireBuilding 2021-05-28 07:05A-AA +
Shafaq News / On Friday, a responsible security source said that a fire broke out inside a building belonging to the Popular Mobilization Authority in the Karrada area in the center of the capital, Baghdad.
The source added, in a statement to Shafaq News, that the fire broke out in a building near Kahramana Square in the Karrada area, adding that the Civil Defense Directorate directed 10 firefighting and rescue teams to control the accident.
The source pointed out that two wheels belonging to the crowd were burnt and a disguise wheel loaded with kerosene with a capacity of 18 thousand liters inside the building's garage, adding that it was extinguished by the teams
In turn, the Civil Defense Directorate said in a statement that its teams managed to extinguish a fire that broke out inside a wheeled garage near one of the buildings in Karrada, today, Friday, and the accident caused the burning of three wheels, a type of double cab, a wheel of 7 passengers, in addition to a loaded fuel tanker near Kahramana Square. In the Karrada district of Baghdad.
The statement noted that 10 firefighting teams were able to control the accident and remove the danger of fire from the building, with a civil defense employee recording a burn injury, and he was transferred to the nearby hospital for treatment.
The statement added that an investigation was opened at the police station responsible for the geographical area, relying on the report of the forensic expert, to determine the causes of the fire.
With the advent of summer and high temperatures, Iraq is witnessing many fires that break out in commercial and industrial places, in the markets, and in official buildings and institutions, as losses are estimated annually in millions of dollars in addition to casualties in some accidents.
https://shafaq.com/ar/%D9%85%D8%AC%D8%AA%D9%80%D9%85%D8%B9/%D8%A7%D9%84%D8%AF%D9%81%D8%A7%D8%B9-%D8%A7%D9%84%D9%85%D8%AF%D9%86%D9%8A-%D9%8A%D8%B3%D8%AA%D8%B9%D9%8A%D9%86-%D8%A8%D9%8010-%D9%81%D8%B1%D9%82-%D8%B7%D9%81%D8%A7-%D9%84%D9%84%D8%B3%D9%8A%D8%B7%D8%B1%D8%A9-%D8%B9%D9%84%D9%89-%D8%AD%D8%B1%D9%8A%D9%82-%D8%AF%D8%A7%D8%AE%D9%84-%D8%A8%D9%86%D8%A7%D9%8A%D8%A9-%D9%88%D8%B3%D8%B7-%D8%A8%D8%BA%D8%AF%D8%A7%D8%AF