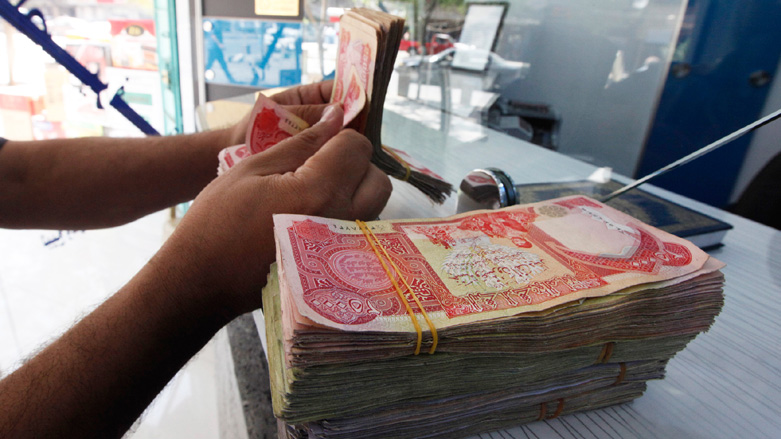 Kurdistan RegionMinistry of FinancedistributionSalariesThe staffTerritory 2021-05-28 07:58A-AA +
Shafaq News / The Ministry of Finance and Economy in Kurdistan Region announced on Friday that it will start distributing salaries to all employees and workers in the public sector, starting from the beginning of next week.
The ministry said in a brief statement today that on Sunday, the 30th of May, the salaries of the 70 and 80 units of the Peshmerga forces, and employees of the Ministry of Finance and Economy, will be paid.
The statement indicated that salaries will be distributed to all employees during the next week.
It was scheduled to begin the Ministry of Finance to distribute salaries last Tuesday, but the lack of liquidity in banks and government banks in the region prevented this.
https://shafaq.com/ar/%D9%83%D9%88%D8%B1%D8%AF%D8%B3%D9%80%D9%80%D8%AA%D8%A7%D9%86%D9%8A%D8%A7%D8%AA/%D9%88%D8%B2%D8%A7%D8%B1%D8%A9-%D8%A7%D9%84%D9%85%D8%A7%D9%84%D9%8A%D8%A9-%D9%81%D9%8A-%D8%A7%D9%82%D9%84%D9%8A%D9%85-%D9%83%D9%88%D8%B1%D8%AF%D8%B3%D8%AA%D8%A7%D9%86-%D8%AA%D8%B4%D8%B1%D8%B9-%D8%A8%D8%AA%D9%88%D8%B2%D9%8A%D8%B9-%D8%A7%D9%84%D8%B1%D9%88%D8%A7%D8%AA%D8%A8-%D8%A8%D8%B9%D8%AF-%D8%BA%D8%AF