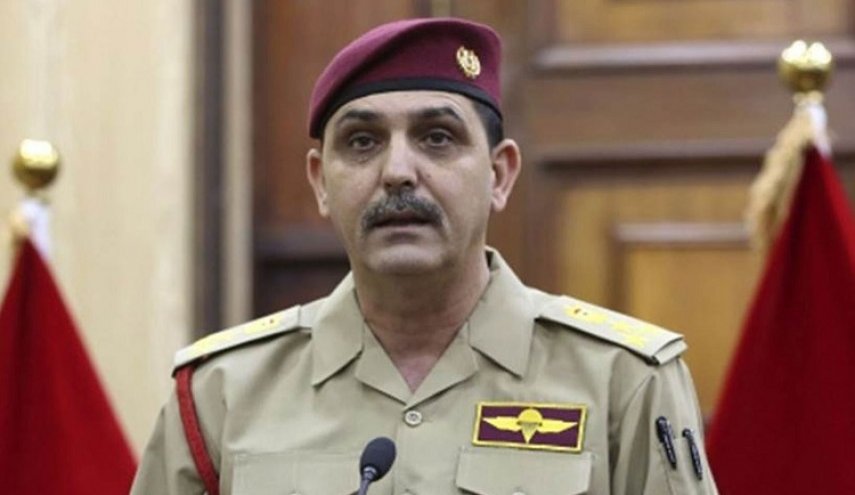 SecurityIraqi armyThe PeshmergaAl-KazemiConflict areasCoordination centers 2021-05-22 06:36A-AA +
Shafaq News / The spokesman for the armed forces, Major General Yahya Rasoul, announced on Saturday that the joint coordination centers between the federal forces and the Peshmerga forces will be supervised by Prime Minister Mustafa Al-Kazemi.
Major General Rasool, special forces, said in a press conference held today, that what remains of ISIS in Iraq are sleeper cells, and they operate in detachments consisting of 5-6 elements that are hidden from view, the first to enter deep into deserts and rugged areas in the mountains.
The military spokesman outlined the operations against ISIS since the first of May, and until the 21st of the same month, by seizing 202 bombs, with 963 weapons seized, and more than 20 ISIS militants were killed, indicating the continuation of operations in all military sectors.
Regarding the joint coordination centers between the Iraqi army and the regional guards (Peshmerga), Major General Rasoul said: These centers will be under the supervision and command of the army with the participation of officers representing all sorts of Iraqi forces, stressing that these centers operate under the command of the Commander-in-Chief of the Armed Forces.
He added that the work of these centers will be only to coordinate all units, as well as coordinate operations against ISIS terrorist gangs, and gather intelligence information.
https://shafaq.com/ar/%D8%A3%D9%85%D9%80%D9%86/%D8%B1%D8%B3%D9%88%D9%84-%D8%A7%D9%84%D9%85%D8%B1%D8%A7%D9%83%D8%B2-%D8%A7%D9%84%D9%85%D8%B4%D8%AA%D8%B1%D9%83%D8%A9-%D9%85%D8%B9-%D9%82%D9%88%D8%A7%D8%AA-%D8%A7%D9%84%D8%A8%D9%8A%D8%B4%D9%85%D8%B1%D9%83%D8%A9-%D8%B3%D8%AA%D9%83%D9%88%D9%86-%D8%A8-%D8%B4%D8%B1%D8%A7%D9%81-%D8%A7%D9%84%D9%83%D8%A7%D8%B8%D9%85%D9%8A