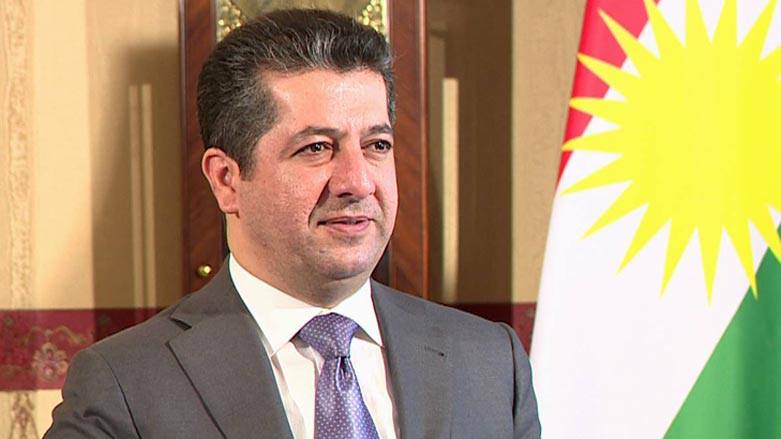 Kurdistan RegionSulaymaniyahMasrour Barzani 2021-05-22 11:43A-AA +
Shafaq News / The Prime Minister of Kurdistan Regional Government, Masrour Barzani, responded today, Tuesday, to those he called "bidders" in talking about the implementation of service projects in Sulaymaniyah governorate, telling the people of that region to implement the 100-meter street project soon.
A statement by the regional government chief reported to Shafaq News stated that "lately, some and the parties, in an unprofessional and without accurate information, and within the context of the auction, talked about the topic of the 100-meter street project," indicating that "the goal behind these attempts was distortion.
He added that he announces to "the citizens, especially the people of the city of sacrifice and redemption (Sulaymaniyah) that the Kurdistan Regional Government, taking into account the financial conditions of the region, has approved only the projects that have been completed more than 75% of them in the provinces," indicating that "the regional government has not yet started Implementation of projects whose completion percentage is less than the mentioned percentage.
He added that "a higher committee and an expert in the regional government is busy reviewing and preparing to start some strategic projects, including the 100-meter street project in Sulaymaniyah."
The statement indicated that "the demands of the citizens of Kurdistan have always been reform and transparency. Therefore, there is a review and evaluation of all projects in any region in the Kurdistan Region in order not to waste the resources of the Kurdistan Region for the benefit of any person, and the regional government delivers services to all regions of the region without any discrimination." .
He added, "Citizens in Sulaymaniyah deserve the best services, and the government decided during the past months to implement a number of services within the borders of Sulaymaniyah, Karmian, Halabja and Rapprin administration," indicating that it will soon start implementing the 100-meter street project in a manner in which the wealth of Sulaymaniyah citizens is used to serve them effectively and appropriately.
He pointed out that "if any amount remains in the project review process in Sulaymaniyah, it will be disbursed within the borders of the same region for other projects."
https://shafaq.com/ar/%D9%83%D9%88%D8%B1%D8%AF%D8%B3%D9%80%D9%80%D8%AA%D8%A7%D9%86%D9%8A%D8%A7%D8%AA/%D8%A8%D8%A7%D8%B1%D8%B2%D8%A7%D9%86%D9%8A-%D9%8A%D8%B1%D8%AF-%D8%B9%D9%84%D9%89-%D8%A7%D9%84%D9%85%D8%B2%D8%A7%D9%8A%D8%AF%D9%8A%D9%86-%D9%82%D8%B1%D9%8A%D8%A8%D8%A7-%D9%86%D8%A8%D8%AF%D8%A3-%D8%A8%D8%AA%D9%86%D9%81%D9%8A%D8%B0-%D9%85%D8%B4%D8%B1%D9%88%D8%B9-%D8%A7%D9%84%D9%85%D8%A7%D8%A6%D8%A9-%D9%85%D8%AA%D8%B1%D9%8A-%D9%81%D9%8A-%D8%A7%D9%84%D8%B3%D9%84%D9%8A%D9%85%D8%A7%D9%86%D9%8A%D8%A9