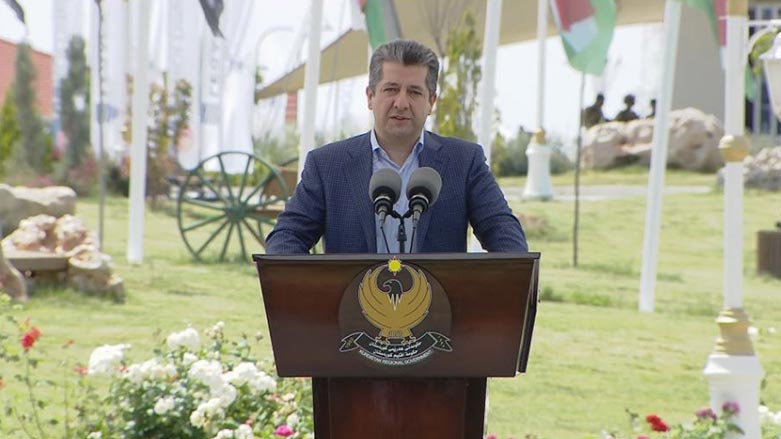 Kurdistan RegionIraqKurdistan RegionThe budget 2021-05-09 06:58A-AA +
Shafaq News / The President of Kurdistan Regional Government, Masrour Barzani confirmed on Sunday that the Iraqi government has not yet sent the region's share of the federal financial budget for the year 2021.
This came in his speech on the sidelines of the inauguration of the "cable car" project in the "Zawa" mountain in the Dohuk governorate.
Barzani said in the speech that this project is not in the interest of the citizens of Dohuk only, but rather all of the Kurdistan Region, stressing that the regional government program is based on two main issues, one of which is reform and the other is the diversification of internal revenue sources.
He added that the Kurdistan region is available to impose larger investment projects, adding: We have overcome difficult years and there is no doubt that a promising future awaits us.
Barzani went on to say: We want to pay more attention to the tourism, agricultural and industrial sectors, and we are working to develop the private sector in the region.
The regional government chief continued by saying: The outbreak of the Corona virus, the drop in oil prices, and the economic crisis that the world witnessed have a negative impact on the Kurdistan Region, expressing his thanks to the people of the region for their steadfastness in facing these difficulties and their support for the regional government.
Barzani pointed to the issue of delay and deduction of salaries, saying: The region's share in the federal financial budget for the current year has not yet arrived, and we hope that it will be sent soon to address these problems.
Masrour Barzani had launched the Jabal Zawa cable car project in Dohuk, which has a height of 500 meters and a length of 2,800 meters, at a cost of 30 million US dollars.
https://shafaq.com/ar/%D9%83%D9%88%D8%B1%D8%AF%D8%B3%D9%80%D9%80%D8%AA%D8%A7%D9%86%D9%8A%D8%A7%D8%AA/%D9%85%D8%B3%D8%B1%D9%88%D8%B1-%D8%A8%D8%A7%D8%B1%D8%B2%D8%A7%D9%86%D9%8A-%D9%82%D9%84%D9%8A%D9%85-%D9%83%D9%88%D8%B1%D8%AF%D8%B3%D8%AA%D8%A7%D9%86-%D9%84%D9%85-%D9%8A%D8%AA%D8%B3%D9%84%D9%85-%D9%84%D8%BA%D8%A7%D9%8A%D8%A9-%D8%A7%D9%84-%D9%86-%D8%AD%D8%B5%D8%AA%D9%87-%D9%85%D9%86-%D8%A7%D9%84%D9%85%D9%88%D8%A7%D8%B2%D9%86%D8%A9-%D8%A7%D9%84%D8%A7%D8%AA%D8%AD%D8%A7%D8%AF%D9%8A%D8%A9