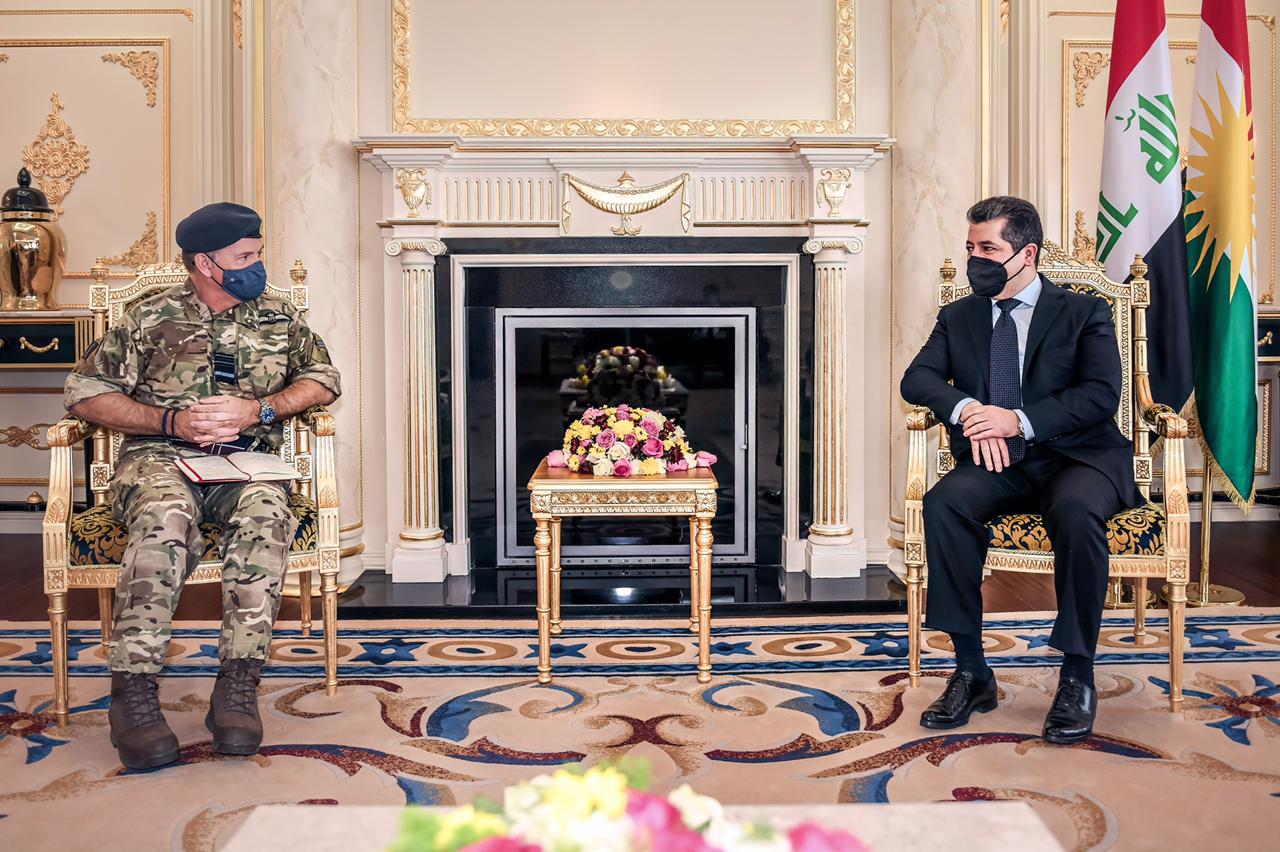 Kurdistan RegionBritainTerritory 2021-05-05 07:00A-AA +
Shafaq News / The Prime Minister of Kurdistan Regional Government, Masrour Barzani met today, Wednesday, a British delegation headed by the chief advisor to the British Ministry of Defense for Middle East and North Africa affairs, Marshal Sami Sampson.
In the meeting, which was attended by the British Ambassador to Iraq Stephen Hickey, the latest developments in Iraq and the region were discussed, as well as prospects for strengthening relations between Britain and the Kurdistan Region, according to a statement issued by the regional government.
The British delegation affirmed the commitment of Britain and the international coalition to support the Peshmerga forces to confront the threats of ISIS, and the importance of activating security coordination between the Iraqi army and the Peshmerga, especially in the Kurdish regions outside the Kurdistan Region administration, to reduce and deter the threats of ISIS terrorists.
The visiting delegation at the meeting praised the reforms that the Kurdistan Regional Government is undertaking in the Ministry of Peshmerga.
https://shafaq.com/ar/%D9%83%D9%88%D8%B1%D8%AF%D8%B3%D9%80%D9%80%D8%AA%D8%A7%D9%86%D9%8A%D8%A7%D8%AA/%D9%85%D8%B3%D8%B1%D9%88%D8%B1-%D8%A8%D8%A7%D8%B1%D8%B2%D8%A7%D9%86%D9%8A-%D9%88%D9%88%D9%81%D8%AF-%D8%A8%D8%B1%D9%8A%D8%B7%D8%A7%D9%86%D9%8A-%D9%8A-%D9%83%D8%AF%D8%A7%D9%86-%D8%B9%D9%84%D9%89-%D8%AA%D9%81%D8%B9%D9%8A%D9%84-%D8%A7%D9%84%D8%AA%D9%86%D8%B3%D9%8A%D9%82-%D8%A7%D9%84-%D9%85%D9%86%D9%8A-%D8%A7%D9%84%D9%85%D8%B4%D8%AA%D8%B1%D9%83-%D9%84%D8%B1%D8%AF%D8%B9-%D8%AF%D8%A7%D8%B9%D8%B4