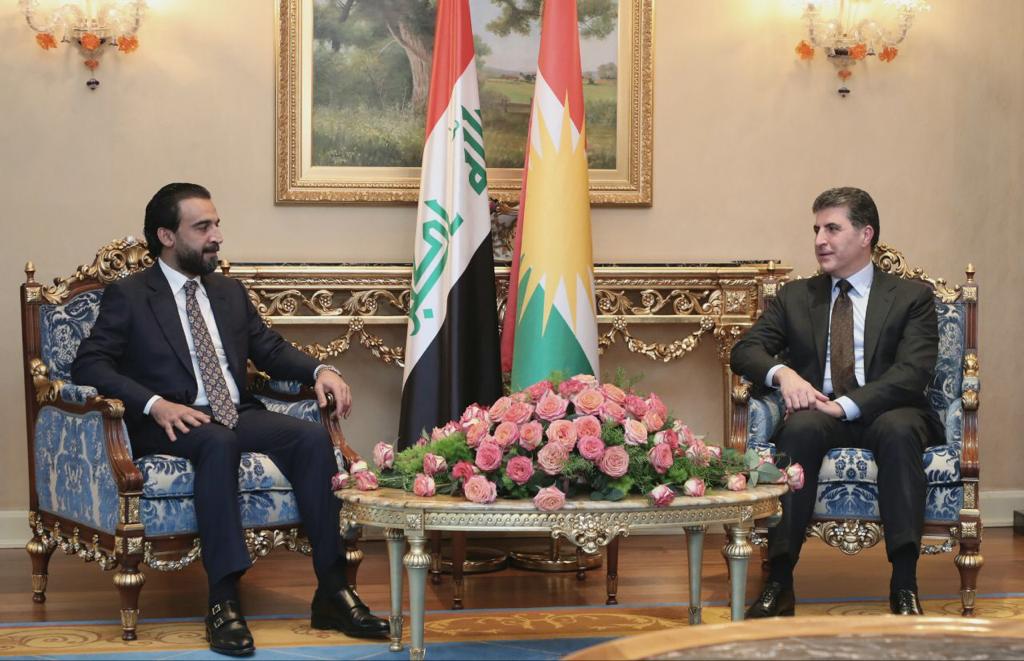 PoliticsMohammed Al-HalbousibreakingNechirvan Barzani 2021-05-03 10:36A-AA +
Shafaq News / The President of Kurdistan Region, Nechirvan Barzani and the Speaker of the Iraqi Parliament (Parliament), Muhammad al-Halbousi, agreed on Monday, to work together to overcome the problems and crises afflicting the country.
This came during Barzani's reception of his guest, Al-Halbousi, in Erbil, the capital of the Kurdistan Region, according to a statement issued by the presidency of the region received by Shafaq News.
The statement stated that the two sides "discussed the general situation of Iraq, early elections in Iraq, expectations about the map of future political alliances, relations between Erbil and Baghdad, the dangers of ISIS and its movements, cooperation and coordination between the parties in the framework of security and stability, in addition to the situation in the region and other issues."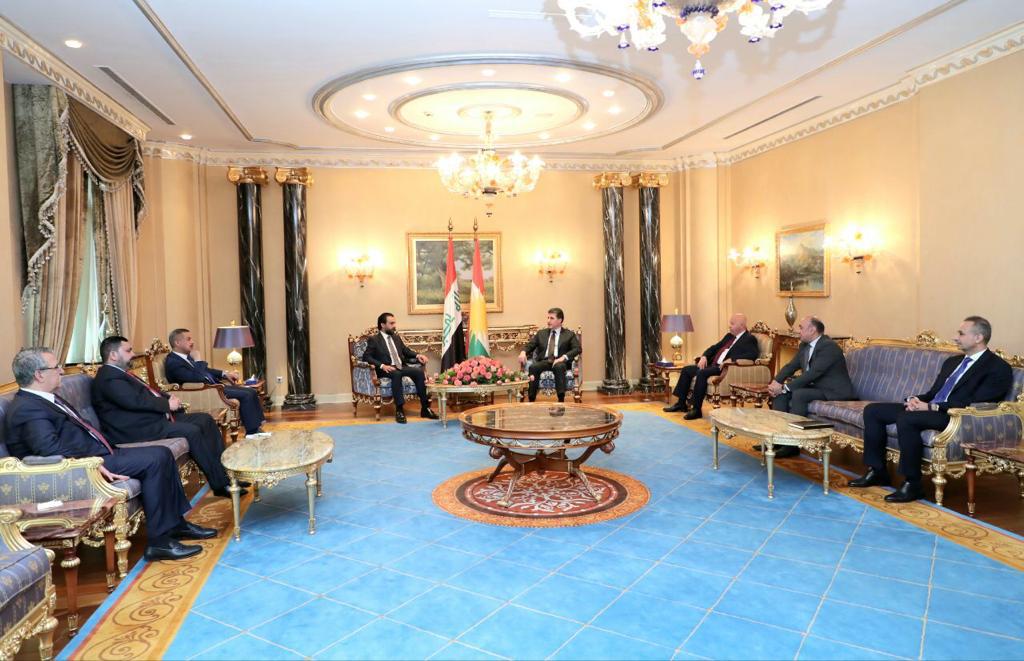 Barzani and Al-Halbousi agreed on "the necessity and importance of joint national action among all authorities and the components of the country to face challenges, overcome problems and crises, maintain unity and harmony within the preservation of calm and stability in the country."
The two sides expressed their hope that "the upcoming elections will be held in a way that fulfills the aspirations of citizens for stability, provision of services and a better future."
Al-Halbousi is visiting the Kurdistan Region, and he also met the Kurdish leader, Masoud Barzani, and the head of the regional government, Masrour Barzani.
Al-Halbousi's visit comes before running for early Iraqi parliamentary elections on the tenth of next October.
https://shafaq.com/ar/%D8%B3%DB%8C%D8%A7%D8%B3%D8%A9/%D8%B1-%D9%8A%D8%B3-%D9%82%D9%84%D9%8A%D9%85-%D9%83%D9%88%D8%B1%D8%AF%D8%B3%D8%AA%D8%A7%D9%86-%D9%88%D8%A7%D9%84%D8%AD%D9%84%D8%A8%D9%88%D8%B3%D9%8A-%D9%8A%D8%AA%D9%81%D9%82%D8%A7%D9%86-%D8%B9%D9%84%D9%89-%D8%A7%D9%84%D8%B9%D9%85%D9%84-%D8%A7%D9%84%D9%85%D8%B4%D8%AA%D8%B1%D9%83-%D9%84%D8%AA%D8%AC%D8%A7%D9%88%D8%B2-%D8%A7%D9%84-%D8%B2%D9%85%D8%A7%D8%AA