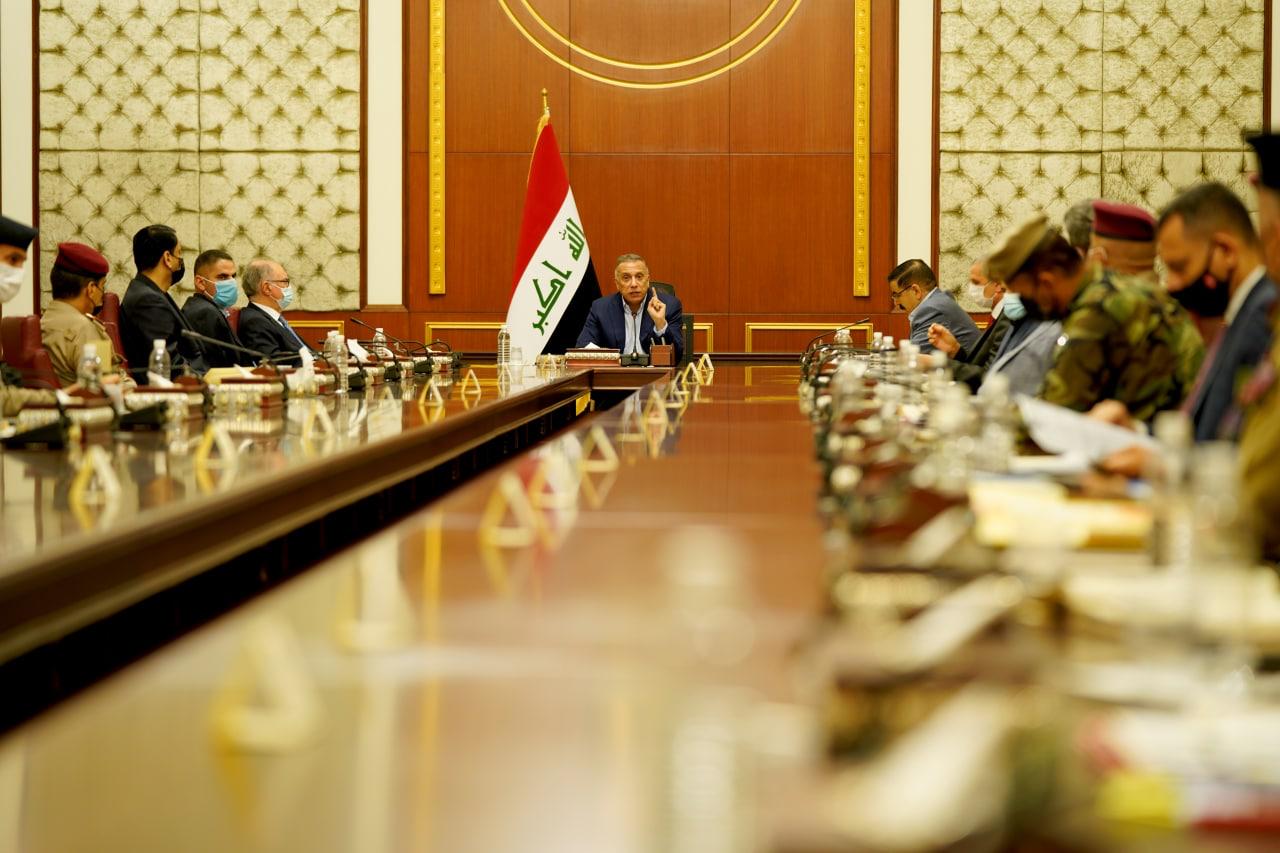 SecurityThe PeshmergabreakingAl-Kazemi 2021-05-02 20:15A-AA +
Shafaq News / The Prime Minister and Commander-in-Chief of the Armed Forces, Mustafa Al-Kazemi chaired, on Sunday evening, an expanded security meeting that included the leaders of the federal security services and the Peshmerga, in the presence of the Ministers of Interior, Defense and Finance.
During the meeting, they discussed developments in the security events that Iraq had witnessed during the past hours, and discussed security plans to confront and limit security breaches, and to extend security and stability throughout the country, and the meeting also discussed coordination between the various federal security forces and the Peshmerga forces, especially in areas of joint responsibility.
The Commander-in-Chief of the Armed Forces issued several directives to the security forces, on top of which is activating the intelligence and security effort, as well as activating pre-emptive operations to counter the movements of ISIS terrorist gangs and dry up their sources and destroy their incubators.
The Peshmerga forces, north of Kirkuk, on Friday night – Saturday, were attacked by ISIS elements, killing and wounding the victims.
The attack on the Peshmerga was one of a series of violent attacks carried out mostly by ISIS militants north of Baghdad and Kirkuk.
The Peshmerga forces withdrew in October 2017 from what are known as disputed areas after tensions with Baghdad following the independence referendum, creating vacuums in these areas that ISIS members exploit from time to time to launch attacks.
The blanks extend from the Syrian border to the north at Nineveh Governorate, through Salah al-Din and Kirkuk governorates, to Diyala on the Iranian border.
Last year, the two sides formed four joint coordination centers to exchange information and fight ISIS remnants in the areas of security vacuums between them, but no actual joint action has taken place on the ground, and the ISIS militants are still moving easily in those areas.
https://shafaq.com/ar/%D8%A3%D9%85%D9%80%D9%86/%D8%A7%D8%AC%D8%AA%D9%85%D8%A7%D8%B9-%D8%A8%D8%B1-%D8%A7%D8%B3%D8%A9-%D8%A7%D9%84%D9%83%D8%A7%D8%B8%D9%85%D9%8A-%D9%8A%D8%A8%D8%AD%D8%AB-%D8%A7%D9%84%D8%AA%D9%86%D8%B3%D9%8A%D9%82-%D9%85%D9%86%D9%8A%D8%A7-%D8%A8%D9%8A%D9%86-%D8%A7%D9%84%D9%82%D9%88%D8%A7%D8%AA-%D8%A7%D9%84%D8%A7%D8%AA%D8%AD%D8%A7%D8%AF%D9%8A%D8%A9-%D8%A7%D9%84%D8%A8%D9%8A%D8%B4%D9%85%D8%B1%D9%83%D8%A9