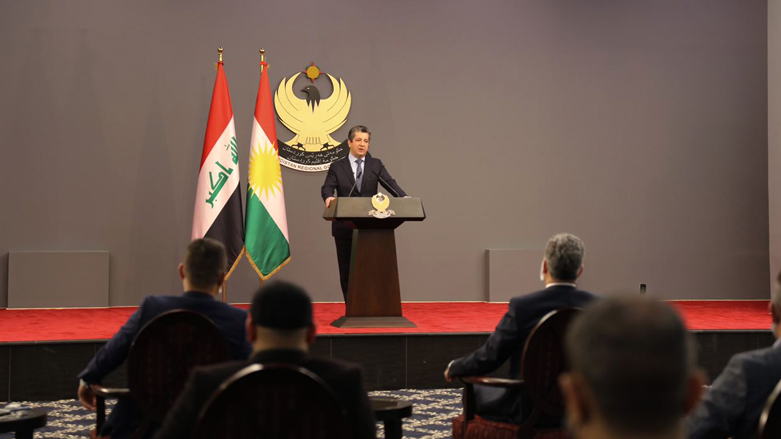 Kurdistan RegionISISMasrour BarzaniThe Peshmergaattack 2021-05-01 06:35A-AA +
Shafaq News / Today, Saturday, the Prime Minister of Kurdistan Regional Government, Masrour Barzani issued a statement regarding the terrorist attacks launched by ISIS terrorists on the Peshmerga forces in the Bardi – Alton Bridge.
Barzani said in the statement, "We have always emphasized that ISIS still poses a real threat and danger in many regions of Iraq, especially in the Kurdish regions outside the administration of the regional government, taking advantage of the security vacuum in the administrative borders of those regions, and therefore we reiterate the importance of activating cooperation." The joint security force between the Iraqi army and the Peshmerga forces there. "
He added, "Here we see that it is important for the international coalition to continue training and assisting the Peshmerga forces and the Iraqi army," stressing the need for it to remain in Iraq to confront ISIS and end the continuing terrorist threats on the Kurdistan Region and Iraq in general.
Earlier in the day, the President of the Kurdistan Region, Nechirvan Barzani, called on Parliament, the federal government, and the international coalition against ISIS led by the United States of America to move quickly to fill the security vacuum in the disputed areas, against the backdrop of the attack launched by the militant organization against the Peshmerga forces in Kirkuk.
Earlier today, a security source reported that seven Peshmerga forces were killed during an armed attack by ISIS in Kirkuk.
The attack targeted Peshmerga points in the hills between Debs district and the town of Elton Kobri – Barada -.
The security source told Shafaq News that the attack resulted in the deaths of seven Peshmerga victims, two wounded, and the burning of a security post.
The attack on the Peshmerga coincided with two armed attacks by ISIS militants on federal police sites in Kirkuk.
The source told Shafaq News Agency, that the first attack targeted the sites of the third division of the Federal Police in the Riyadh district, southwest of Kirkuk, while the second attack targeted the 11th Federal Police Brigade in the Hawija district.
He added that the attack resulted in casualties.
On Saturday, the official of the West Kirkuk axis for the Peshmerga forces, Nuri Hama Ali, revealed that reinforcements had been brought in from the Kurdish forces after an armed attack by ISIS that resulted in victims of the Peshmerga.
Hama Ali told Shafaq News that the ISIS attack caused casualties, including a captain, and two wounded.
He added that 2,000 Peshmerga had been brought in to the West Kirkuk axis, and the situation is now under control.
Earlier on Friday evening, a responsible security source reported that four casualties, including two army officers, had been killed in a successive attack by ISIS targeting a military patrol in the Tarmiyah district, north of Baghdad.
https://shafaq.com/ar/%D9%83%D9%88%D8%B1%D8%AF%D8%B3%D9%80%D9%80%D8%AA%D8%A7%D9%86%D9%8A%D8%A7%D8%AA/%D9%85%D8%B3%D8%B1%D9%88%D8%B1-%D8%A8%D8%A7%D8%B1%D8%B2%D8%A7%D9%86%D9%8A-%D9%85%D9%86-%D8%A7%D9%84%D9%85%D9%87%D9%85-%D9%86-%D9%8A%D9%88%D8%A7%D8%B5%D9%84-%D8%A7%D9%84%D8%AA%D8%AD%D8%A7%D9%84%D9%81-%D8%A7%D9%84%D8%AF%D9%88%D9%84%D9%8A-%D8%AA%D8%AF%D8%B1%D9%8A%D8%A8-%D8%A7%D9%84%D8%A8%D9%8A%D8%B4%D9%85%D8%B1%D9%83%D8%A9-%D9%88%D8%A7%D9%84%D8%AC%D9%8A%D8%B4-%D8%A7%D9%84%D8%B9%D8%B1%D8%A7%D9%82%D9%8A