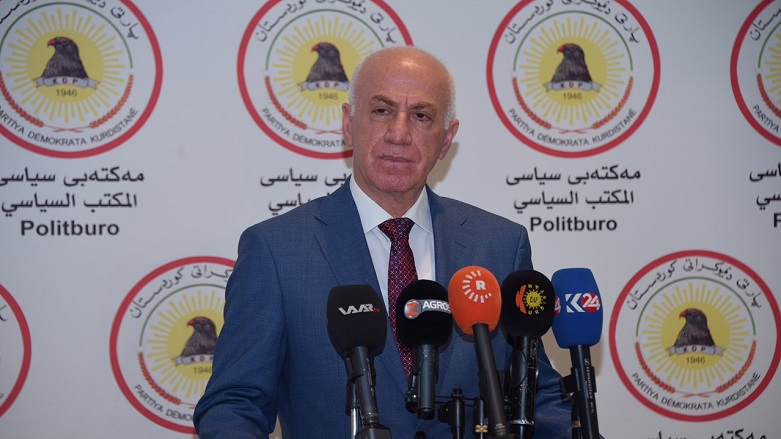 .
PoliticsBarham SalehbreakingKurdistan DemocratThe electionAlliances 2021-04-29 07:11A-AA +
Shafaq News / The President of the Republic, Barham Salih met on Thursday with the political bureau of the Kurdistan Democratic Party in Salah al-Din resort.
After the meeting, party spokesman Mahmoud Muhammad held a press conference attended by the correspondent of Shafaq News: Currently there is a delegation from our party in Baghdad to discuss the issue of the upcoming elections, political alliances with other Iraqi parties, as well as returning to the regions of Kirkuk, Nineveh, Sinjar and Makhmour, adding that "but until now Things are not settled. "
Regarding the alliances to contest the early Iraqi parliamentary elections, Muhammad said: We spoke with "Sairoun", but until now there is no formal agreement.
The "Sairoun" coalition is supported by the leader of the Sadrist movement, Muqtada al-Sadr, which seeks to achieve the loudest votes in the upcoming legislative elections scheduled for next October, and to obtain the position of Prime Minister.
Regarding the return of the Peshmerga to Kirkuk, the Kurdistan Democratic spokesperson said: We will demand the activation of the constitutional Article 140, and through it the establishment of a mechanism for the return of the Peshmerga to these areas, indicating that their return will certainly have importance in coordinating with the Iraqi security forces to fill the security vacuum and prevent terrorist attacks.
https://shafaq.com/ar/%D8%B3%DB%8C%D8%A7%D8%B3%D8%A9/%D8%A8%D8%B9%D8%AF-%D8%A7%D8%AC%D8%AA%D9%85%D8%A7%D8%B9-%D9%85%D8%B9-%D8%B5%D8%A7%D9%84%D8%AD-%D8%A7%D9%84%D8%AF%D9%8A%D9%85%D9%82%D8%B1%D8%A7%D8%B7%D9%8A-%D8%A7%D9%84%D9%83%D9%88%D8%B1%D8%AF%D8%B3%D8%AA%D8%A7%D9%86%D9%8A-%D8%B1%D8%B3%D9%84%D9%86%D8%A7-%D9%88%D9%81%D8%AF%D8%A7-%D9%84%D8%A8%D8%BA%D8%AF%D8%A7%D8%AF-%D9%88%D9%81%D8%A7%D8%AA%D8%AD%D9%86%D8%A7-%D8%B3%D8%A7-%D8%B1%D9%88%D9%86-%D9%84%D9%84%D8%AA%D8%AD%D8%A7%D9%84%D9%81