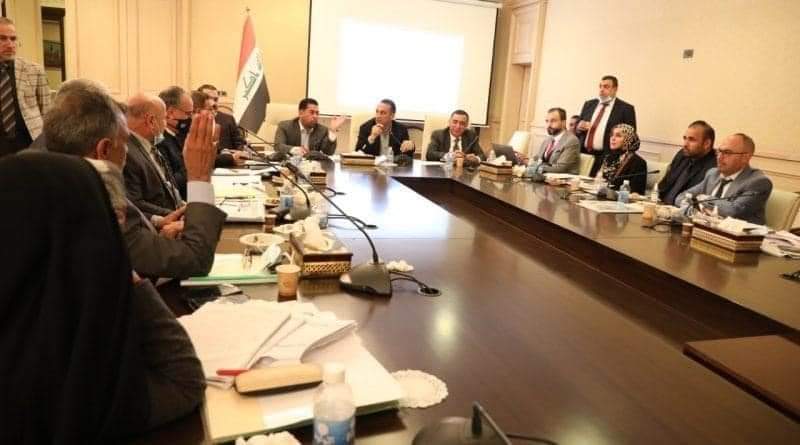 Politics2021 budgetParliamentary Finance CommitteePrime MinisterHeads of political blocs 
2021-02-06 12:41A- A A+
Shafaq News / A parliamentary source said, on Saturday, that a meeting will bring together members of the Finance Committee with Prime Minister Mustafa Al-Kazemi to discuss the 2021 budget.
A source in the Finance Committee informed Shafaq News Agency; That the committee will meet within the next 24 hours the Prime Minister and a number of ministers and officials in the state to discuss the latest draft of the General Budget Law.
Source added; "The Finance Committee will meet after a meeting with Al-Kazemi and his government staff, heads of political blocs to discuss the latest draft of the budget law before presenting the budget law to a vote in the parliament session."
Earlier on Saturday, the President of the Iraqi Council of Representatives announced the cancellation of the deductions that the government included in the 2021 budget.
https://shafaq.com/ar/%D8%B3%DB%8C%D8%A7%D8%B3%D8%A9/%D9%85%D8%B5%D8%AF%D8%B1-%D8%A7%D9%84%D9%84%D8%AC%D9%86%D8%A9-%D8%A7%D9%84%D9%85%D8%A7%D9%84%D9%8A%D8%A9-%D8%B3%D8%AA%D9%84%D8%AA%D9%82%D9%8A-%D8%A7%D9%84%D9%83%D8%A7%D8%B8%D9%85%D9%8A-%D9%88%D8%B1-%D8%B3%D8%A7-%D8%A7%D9%84%D9%83%D8%AA%D9%84-%D9%82%D8%A8%D9%84-%D8%B7%D8%B1%D8%AD-%D9%85%D9%88%D8%A7%D8%B2%D9%86%D8%A9-2021-%D9%84%D9%84%D8%AA%D8%B5%D9%88%D9%8A%D8%AA