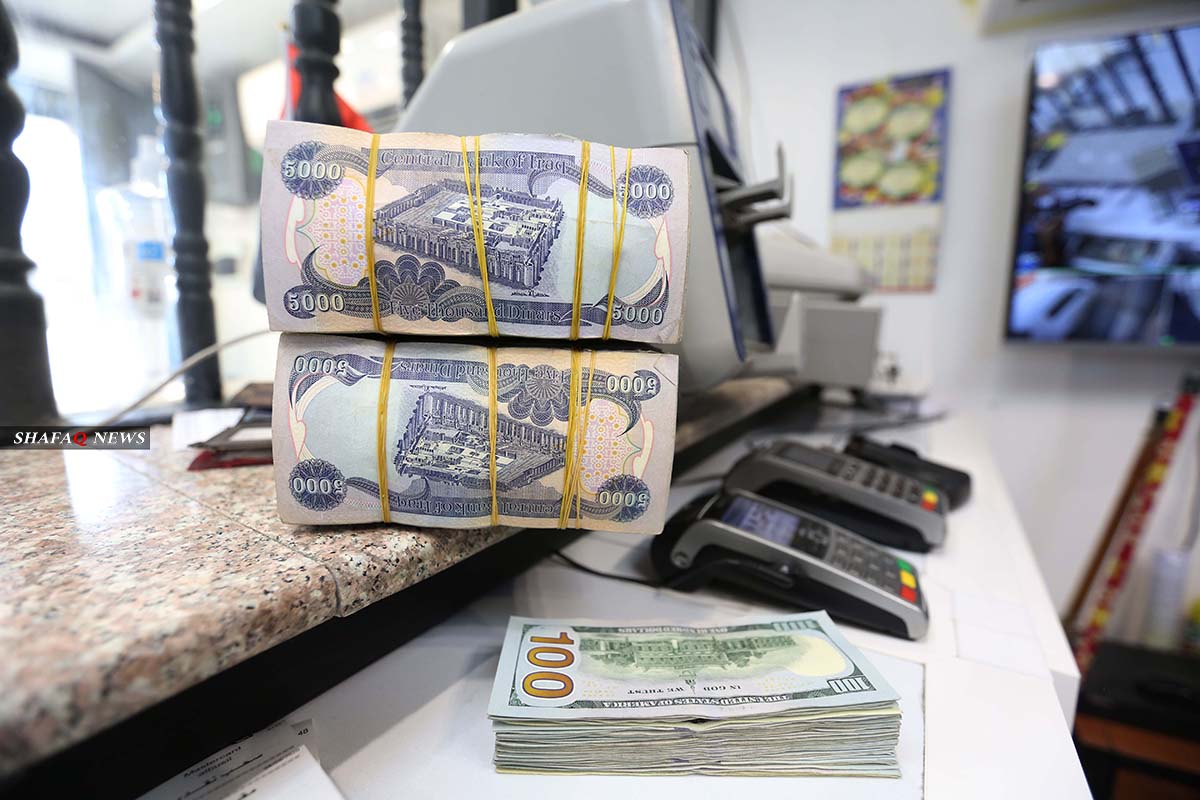 EconomybreakingThe Iraqi ParliamentBorrowing ActFiscal Deficit Act 2020-11-11 20:51A- A A+
Shafaq News Agency publishes the final version of the fiscal deficit financing law, which was voted by the House of Representatives in a late session on Thursday
On Thursday, the Iraqi parliament voted on the borrowing law that the government has been waiting for to secure employees' delayed salaries for several weeks, as the country is going through one of the most difficult financial crises, due to the decline in oil prices.
The session was hindered after the Kurdish blocs boycotted the voting session after a disagreement over a proposal submitted by Shiite parliamentary blocs that included "determining the Kurdistan Region's share of the total actual spending – current expenditures and investment project expenditures – after excluding the sovereign expenditures specified in the federal budget law on the condition that the Kurdistan Region should pay The establishment of oil exported from the region and in quantities exclusively determined by SOMO and federal non-oil revenues. In the event of non-commitment of the region, its expenses may not be paid, and the violator of this provision bears the legal violation.
The session was held with the participation of most of the deputies, including the Kurds, after agreeing to postpone the vote on that controversial point, but Parliament proceeded to vote on the article, which caused a verbal altercation between Kurdish representatives and others from Shiite blocs that caused their withdrawal from the session.
The vote was also made to allocate an amount of 400 billion dinars to the port of Al-Faw, and to adopt fingerprints in salaries in order to ensure that there are no "aliens" – ghost employees -.
This amount will cover the government's fiscal deficit for the months of October, November and December.
This is the second time that the government asked Parliament to grant it the authorization to borrow in order to secure operating expenses, on top of which are the salaries of employees.
On June 24, parliament approved a bill that allowed the government to borrow 15 trillion dinars internally and $ 5 billion abroad to cover the fiscal deficit.
According to the official authorities, these funds have run out during the past months.
Employees are still awaiting payment of their salaries last October, the second delay of its kind for the second month in a row.
The legislation of the fiscal deficit law comes to secure a legitimate cover for the government, given that Iraq has not approved the fiscal budget for 2020 due to the crisis of protests that toppled the previous government and was followed by the Corona pandemic crisis, which reduced the state's revenues by nearly half.
And Iraq is one of the countries with a rentier economy, as it relies on revenues from selling oil to finance up to 95 percent of state expenditures.
The country is experiencing a suffocating financial crisis due to the decline in oil prices due to the Corona pandemic crisis, which has paralyzed large sectors of the world's economies.
And before the Corona pandemic crisis, revenues from selling crude amounted to about $ 6 billion per month, but they have almost halved this year.
https://shafaq.com/ar/%D8%A7%D9%82%D8%AA%D8%B5%D9%80%D8%A7%D8%AF/%D8%AA%D9%81%D8%A7%D8%B5%D9%8A%D9%84-%D9%82%D8%A7%D9%86%D9%88%D9%86-%D8%AA%D9%85%D9%88%D9%8A%D9%84-%D8%A7%D9%84%D8%B9%D8%AC%D8%B2-%D8%A7%D9%84%D9%85%D8%A7%D9%84%D9%8A-%D9%81%D9%8A-%D8%A7%D9%84%D8%B9%D8%B1%D8%A7%D9%82