Friday, 03 May 2019 06:39 PM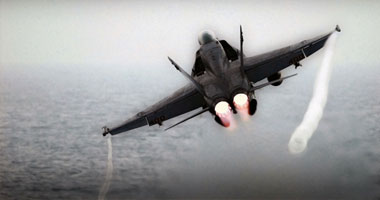 F16 aircraft
The Iraqi Ministry of Defense announced that it had received a final batch of F-16 aircraft from the United States .
The Iraqi Ministry of Defense – in a statement issued by the Iraqi National News Agency "Nina" on Friday – that the air base Balad received the last batch of F-16 aircraft, adding that the air force commander team pilot Anwar Hama Amin, was receiving the aircraft, Commander of the air base of Balad, and a number of officers and staff members .
The commander of the Iraqi Air Force that this batch comes within the contract concluded with the United States of America, noting that these aircraft are a large addition to the Iraqi Air Force, which has witnessed a significant development on the level of combat and training .
https://translate.googleusercontent.com/translate_c?depth=1&hl=en&rurl=translate.google.com&sl=ar&sp=nmt4&tl=en&u=https://www.youm7.com/story/2019/5/3/%25D8%25A7%25D9%2584%25D8%25B9%25D8%25B1%25D8%25A7%25D9%2582-%25D9%258A%25D8%25AA%25D8%25B3%25D9%2584%25D9%2585-5-%25D9%2585%25D9%2582%25D8%25A7%25D8%25AA%25D9%2584%25D8%25A7%25D8%25AA-F16-%25D9%2585%25D9%2586-%25D8%25A7%25D9%2584%25D9%2588%25D9%2584%25D8%25A7%25D9%258A%25D8%25A7%25D8%25AA-%25D8%25A7%25D9%2584%25D9%2585%25D8%25AA%25D8%25AD%25D8%25AF%25D8%25A9/4229775&xid=17259,15700023,15700186,15700191,15700253,15700256,15700259&usg=ALkJrhiztzHM7IRV5alrvH0VS6_RuGpWjA