Tuesday, 05 June 2018 04:11 AM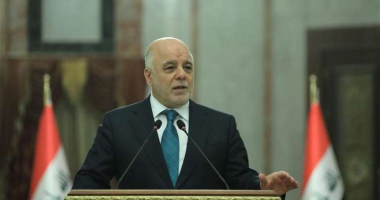 Iraqi Prime Minister Haidar al-Abbadi
Iraqi Prime Minister Haidar al-Abbadi discussed with Parliament Speaker Salim al-Jubouri and Vice-President Iyad Allawi on Monday the progress of the political process and the formation of the new government in the presence of leaders of the coalition of victory and patriotism .
The leadership office of the National Coalition Saleh al-Mutlaq – in a statement reported by the channel (Alsumaria News) Iraqi that at the invitation of Mutlaq held a meeting between the National Coalition and victory, in the presence of a number of leaders and deputies coalitions .
The statement added that the meeting discussed the political process and the formation of the next government within the framework of the national and the challenges of security, economic and service, pointing out that it was agreed to continue meetings and deliberations with all national forces in line with the aspirations of the Iraqi people .
The political scene is witnessing a wide movement among the winning forces in the elections that took place earlier to form the largest parliamentary bloc in preparation for its mandate to form the next government .
https://translate.googleusercontent.com/translate_c?depth=1&hl=en&rurl=translate.google.com&sl=ar&sp=nmt4&tl=en&u=https://www.youm7.com/story/2018/6/5/%25D8%25B1%25D8%25A6%25D9%258A%25D8%25B3-%25D9%2588%25D8%25B2%25D8%25B1%25D8%25A7%25D8%25A1-%25D8%25A7%25D9%2584%25D8%25B9%25D8%25B1%25D8%25A7%25D9%2582-%25D9%258A%25D8%25A8%25D8%25AD%25D8%25AB-%25D9%2585%25D8%25B9-%25D9%2582%25D9%258A%25D8%25A7%25D8%25AF%25D8%25A7%25D8%25AA-%25D8%25AD%25D8%25B2%25D8%25A8%25D9%258A%25D8%25A9-%25D8%25A7%25D9%2584%25D8%25B9%25D9%2585%25D9%2584%25D9%258A%25D8%25A9-%25D8%25A7%25D9%2584%25D8%25B3%25D9%258A%25D8%25A7%25D8%25B3%25D9%258A%25D8%25A9-%25D9%2588%25D8%25AA%25D8%25B4%25D9%2583%25D9%258A%25D9%2584/3821527&xid=17259,15700022,15700124,15700149,15700168,15700173,15700186,15700191,15700201&usg=ALkJrhiPo7amJboEHU8-biOnyfHrIhEaYA